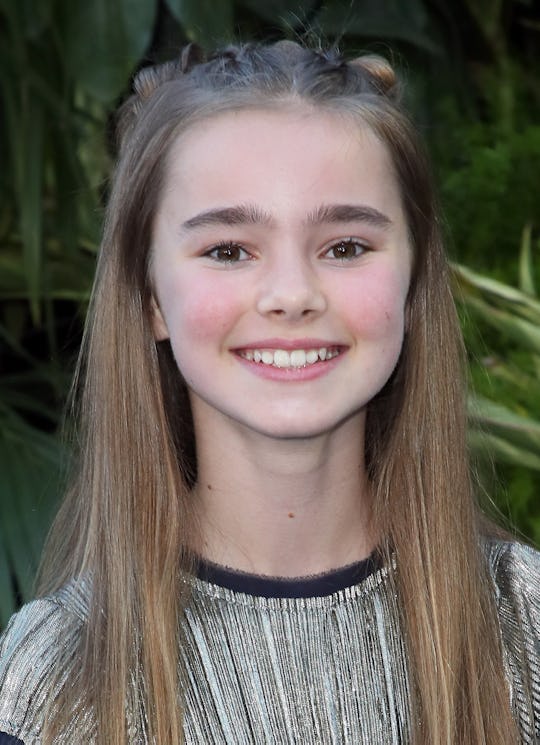 David Livingston/Getty Images Entertainment/Getty Images
Here's Who Plays Maisie Lockwood In 'Jurassic World: Fallen Kingdom' Because She's A Scene Stealer
By now you've probably seen the latest action film to take over the box office, Jurassic World: Fallen Kingdom, right? Well, if you haven't then you definitely should. Not only does the film star Chris Pratt and Bryce Dallas Howard, but there's a newcomer in the sequel that you don't want to miss. So, who plays Maisie Lockwood in Jurassic World: Fallen Kingdom? You might not have heard the name Isabella Sermon before, but you definitely will be moving forward.
If you've been following the Jurassic World intel online or seen the films new trailers, you might recognize Sermon as the little girl who backs up dangerously close to a dinosaur claw that's reaching out. And while the trailer might have only given fans a glimpse at Sermon's character, the film tells the whole story. According to SlashFilm.com, Sermon plays Maisie Lockwood, granddaughter of Benjamin Lockwood (played by James Cromwell), one of the movie's semi-villains. But as for Maisie, she seriously loves dinosaurs, so much so that the trailer makes it obvious she's been lurking around where she wasn't supposed to.
But, if you haven't seen the highly-anticipated sequel to Jurassic World, you'll just have to wait to see what happens with young Maisie, and whether she ends up fighting alongside Pratt and Howard, or if she's standing on the other side.
Really, though, Jurassic World: Fallen Kingdom, is expected to shatter records at the box office. And while the trailer has still left plenty to the imagination when it comes to the plot, the movie has definitely gotten people talking. But, if you're unsure what to expect from the movie, or young Sermon, then fear not. According to IMDb, "When the island's dormant volcano begins roaring to life, Owen and Claire mount a campaign to rescue the remaining dinosaurs from this extinction-level event."
So yeah, it's an action movie, y'all. Jurassic World is no joke, and while Sermon's portrayal of Maisie might be young, she definitely seems capable of fighting hard and holding her own against a dinosaur if she needs to. And additionally, according to her IMDb page, it seems as if Jurassic World: Fallen Kingdom is her debut role. Which, really, isn't a bad gig to break into Hollywood with, right?
The last installment in the Jurassic World trilogy, which premiered in 2015, grossed $1,670,400,637 total worldwide, according to IMDb. And as the movie's budget was only an estimated $150,000,000 (OK, maybe "only" isn't the right word to describe that amount, but still), according to IMDb, it definitely turned a profit. So, it's a fair assumption that Jurassic World: Fallen Kingdom will do so as well. According to the sequel's IMDb page, the second movie's budget was $170,000,000, so hopefully the film will see that same turn in profits, as they spent a little more this time around.
And honestly, Sermon deserves the payday that she'll get from the second Jurassic World movie. In addition to putting up with her grandfather's antics with dinosaurs, young Maisie Lockwood also has a frightening encounter with a dinosaur as she's trying to sleep. According to Metro, there's one scene with Sermon in which a dinosaur's claw is seen slowly reaching towards the youngster in bed, as she lays petrified with fear.
Sermon's acting skills certainly seem to be top-notch, and even though this is her first major motion picture role, it's clear that the kid's got talent. So, again, if you haven't seen Jurassic World: Fallen Kingdom, you should seriously get on it. Young Maisie Lockwood is a total warrior, and along with Owen and Claire, she'll be serving some serious talent, y'all.