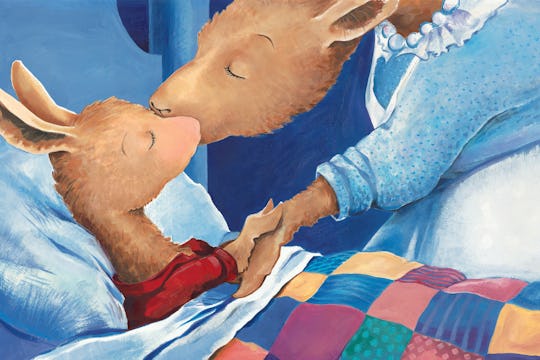 Netflix
The Voice Behind Mama Llama On Netflix's New Animated Series May Sound Very Familiar
Netflix has released an all-new kids show this week and it's absolutely adorable. The series, Llama Llama, is based on the popular and bestselling picture book series by author and illustrator Anna Dewdney and follows the young life of Llama as he goes through everyday struggles and builds bonds with his friends and family. The strongest bond Llama has is with his mother, Mama Llama, but who plays Mama Llama on Netflix's Llama Llama? Golden Globe winner and popular celebrity mom Jennifer Garner was tapped for the role.
Although most fans are probably used to seeing Garner's face on screen, this time she's loaning just her voice for the series. This is actually the first time Garner has been cast in a starring role in an animated series, but there's no doubt she'll play the part perfectly. This isn't her first time stepping into a mom role though. Many people will remember her as the woman who ended up adopting Juno's baby in the iconic film, Juno. She also played the mom in the Disney movies The Odd Life of Timothy Green and Alexander and the Terrible, Horrible, No Good, Very Bad Day, which was also based on a bestselling picture book.
Additionally, Garner will be stepping into the mom role yet again for the new film, Love, Simon, which is due out in March and based on the bestselling novel, Simon vs. the Homo Sapiens Agenda by Becky Albertalli. Garner is a great mom in real life as well. She has three children (two girls, one boy) with her estranged husband, Ben Affleck, ranging from ages 5 to 12. Perhaps Garner will even watch Llama Llama with her kids.
Along with Garner, Llama Llama has an incredible creative team behind it. The series was created by Oscar-winning director Rob Minkoff (The Lion King), director Saul Blinkoff (Doc McStuffins), showrunner Joe Purdy, art director Ruben Aquino (Frozen), and Emmy-winning producers Jane Startz and Andy Heyward. Additionally, just like the beloved books, the show will tell "heart-warming tales about childhood moments and adventures," according to Deadline.
If you're already a fan of the book series you probably won't be surprised to see Llama often sporting his now famous "red pajamas." You may also recognize some of his friends, including Euclid Sheep, Bill Goat, Nelly Gnu, and Luna Giraffe. Llama's grandparents will have appearances in the show as well and though the series probably won't have as many rhythms as the books, the show will still be filled with fun for all to enjoy.
Sadly, Dewdney died before she had the chance to see her characters come to life in the TV series. Dewdney passed away on Sept. 3, 2016 after a 15-month battle with brain cancer; she was only 50 years old at the time. Her last picture book, Little Excavator, was published in June of last year and according to Publisher's Weekly she asked people to read to children in lieu of a funeral service.
With the new TV series, Dewdney's legacy not only lives on in her books, which continue to be popular amongst kids today, but also brings in a new audience. It wouldn't be surprising if now that the show is here, Dewdney's books became even more popular as more kids fall in love with Llama and his friends. Thus, the series is perfect for fans who are already familiar with Llama, and great for those who are new to his story as well.
Llama Llama is now streaming on Netflix so go check it out and fall in love with this new take on a classic.
Check out Romper's new video series, Romper's Doula Diaries:
Watch full episodes of Romper's Doula Diaries on Facebook Watch.