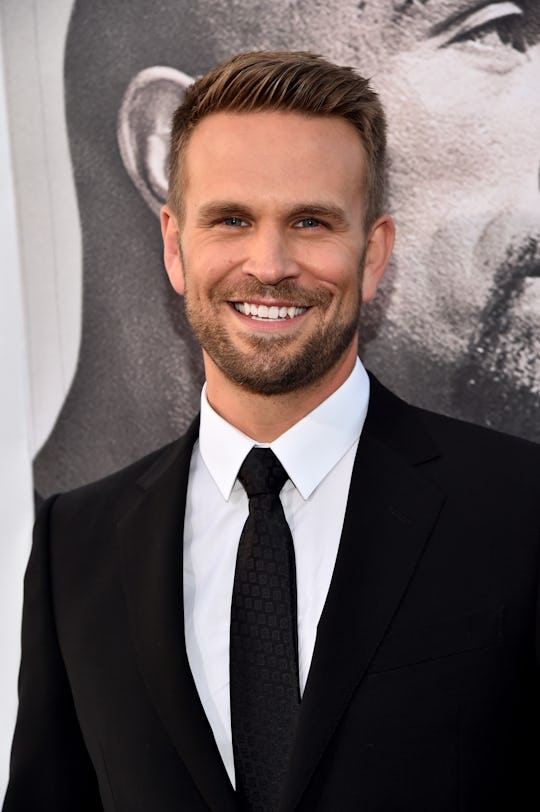 Alberto E. Rodriguez/Getty Images Entertainment/Getty Images
Who Plays Matt On 'Fuller House'? John Brotherton Is A Soap Opera Alum
Season 1 of Netflix's Fuller House ended with a Bachelorette-inspired cliffhanging love triangle when D.J. Tanner "picked herself" in lieu of choosing between two guys. Her high school boyfriend Steve is back in the picture and vying for D.J.'s affection playing the nostalgia and familiarity card. But she's also got a new prospect in Matt, a veterinarian whose dad owns the pet clinic she works at. D.J., widowed for about a year, wants to get back on the dating scene and feels torn between these two surprisingly eligible guys. So who plays Matt on Fuller House? Soap star John Brotherton just got promoted to a series regular on the show.
In the reboot's first season, D.J. and Matt reunited for the first time since childhood with that classic haven't-seen-you-since-you-were-a-kid-and-now-you're-a-megahunk sit-com reveal. They went on a few dates after discovering their new chemistry, and D.J. decided to let her high school relationship die. But after Steve took her on a nostalgia date to win her over, D.J. decided it was silly to commit to Matt when he's only in San Francisco temporarily. Plot twist! His dad decided to retire, leaving Matt to inherit the pet clinic, so his visit turned into a permanent move. Instead of becoming D.J.'s boss, though, he offered her part-ownership of the clinic for her many years of service, but that left their romantic chemistry to consider.
After D.J. told both Steve and Matt she's going to hold off on dating either of them, they start to kindle a bromance of their own, which, considering Brotherton's upgrade, probably means it'll only strengthen in Season 2. In real life, the 35-year-old actor is very un-single, having married his longtime girlfriend and fellow actress Alison Raimondi in 2008. She did an episode of One Life To Live with him that same year. The couple also has two daughters, Shia and Saylor, born in 2010 and 2012. Brotherton originally hails from the Pacific Northwest. He was born in Washington and grew up in Portland, later going to Oregon State University, where he was a fraternity member at Kappa Sigma.
John Brotherton's most recent series regular role was playing Jared Bates on the ABC soap One Life To Live from 2007-2009. But since then, he's done guest spots on episodes of Drop Dead Diva, Dexter, CSI: Crime Scene Investigation, Two Broke Girls, and NBC's new drama Timeless, with film roles in Furious 7, Guardians of the Galaxy, and The Conjuring. His gig on Fuller House is his first recurring role since his soap days, and it looks like the sit-com world suits him.