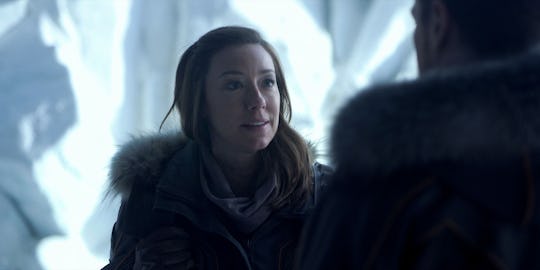 Netflix
Netflix Is Bringing Back A Familiar Face To Play The 'Lost In Space' Matriarch
It's time meet the Robinsons... again! The Netflix reboot of Lost in Space has arrived and while the show is a bit different than the original, the family dynamics of the series remains about the same. The series will follow the Robinson family, which consists of John, the dad, Maureen, the mom, and their three children, Judy, Penny, and Will. Most of the actors that make up the Robinson family aren't first time actors, but Maureen is probably the most recognizable. So who plays Maureen Robinson on Lost in Space? Emmy-nominated actress Molly Parker steps into the role of the Robinson matriarch.
Parker has been appearing in film and TV show since the '90s, and she's incredible with her craft. Early in her career she appeared in shows such as Neon Rider, The Marshal, Highlander, The Sentinel, Lonesome Dove: The Outlaw Years, and Twitch City. During the '90s she was also in the films Ladies Room, The Intruder, Sunshine, The Five Senses, Wonderland, Under Heaven, and Bliss.
She then went on to star in the HBO period drama, Deadwood, for three seasons before starring in the short-lived drama series, Swingtown. Following that, Parker got recurring roles on Shattered and Dexter, before starring in The Firm. Soon after that, Parker was cast in a guest starring role on House of Cards as Jackie Sharp. The part got her an Emmy nomination, which was well deserved.
While working on House of Cards, Parker also appeared in a number of films, including Darwin, The 9th Life of Louis Drax, Weirdos, and American Pastoral. She also had a recurring role on Goliath and following House of Cards she appeared in the TV miniseries documentary, Wormwood.
Now Parker is returning to Netflix for her role in Lost in Space, which she greatly appreciated because it allowed her to live in Vancouver (her hometown) for six months. "It was so great for me," she told Vancouver Sun about the experience. "My family is there. I was able to have my son up there with me. It was awesome."
Besides getting the chance to be back home, Parker revealed she loved being part of this new take on an old show. As Maureen, Parker is playing a role that has been portrayed by two actresses before her. In the 1960s series, Maureen was played by two-time Emmy nominated actress June Lockhart, and in the 1990s film remake Mimi Rogers took on the role. In the original series, Maureen, who was introduced as Dr. Maureen Robinson, was a distinguished biochemist.
This will remain a big part of Maureen's character in the reboot, making her a great asset to have when the family's spaceship crashes on an unknown planet. Besides that, Maureen is also a mother and wife, which proves to be a driving force of motivation for her as she attempts to keep her family safe from whatever lives on this mysterious planet. However, Maureen won't be delegated to just cooking and cleaning.
"In the original, Maureen Robinson makes a lot of sandwiches in the middle of a massive alien crisis," Parker explained to Vancouver Sun. "Maureen is like, 'Can I make anyone a sandwich?' I don't know if that was the reality then but it's certainly not the reality now. So instead you have this working mother who is a brilliant scientist who can do what she needs to do to protect her family and she does."
You can meet Maureen and the rest of the Robinson family by watching Lost in Space, which is now streaming on Netflix.
Check out Romper's new video series, Romper's Doula Diaries:
Watch full episodes of Romper's Doula Diaries on Facebook Watch.