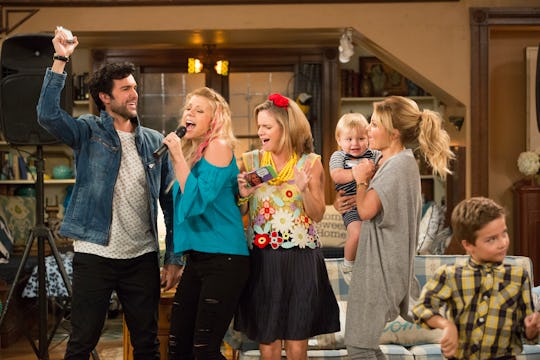 Michael Yarish/Netflix
Who Plays Max On 'Fuller House'? Elias Harger Is Stealing The Show
Fuller House has returned for its second season, and with it, D.J.'s kids. The baby is adorable, but a little too small to have any real personality yet. Her teenage son Jackson is cute too. But no one is quite as charming as the precocious third grader Max. Who plays Max on Fuller House? Elias Harger is stealing the show.
The eight-year-old character is perhaps the most likable of the entire Tanner brood and one of the more adorable kids on television at the moment. He's known for his school smarts, snappy dressing, and sardonic attitude that makes him seem slightly older than an elementary school student. The young actor who plays him has a lot of experience in the Denver theater world (even for a little kid) and a few short films. After a large casting call, Harger snagged the role of D.J.'s second born son Max, which is his first big acting gig on a national platform. It would be hard to find any young actor who seems better suited for this character. It's also rather interesting to see how quickly kids grow up. Max looks so much older in the one year since Season 1, you could be forgiven for thinking he might have been replaced.
In the show, Jackson, Max, and Tommy are D.J.'s three sons who she is struggling to raise alone after their father passed away, though she does have some help from her sister Stephanie and best friend Kimmy Gibbler. Harger was already pretty well known in the Denver theater scene before he beat out a thousand other kids to play Max. He was in productions of Shrek: the Musical, and A Christmas Carol, where he played Tiny Tim. If you think he's cute in sweater vests, you should just see him with a newsboy cap and a little cane added to the mix.
According the the Denver Post, when Harger got the role he was not yet a proficient reader (he was seven, after all), and learned all his lines audibly, which meant that he's often off-book before the rest of the cast. The show adapted itself somewhat to his own firecracker personality. It's evident the character got some of his more neurotic quirks from his grandfather, Danny, but he's a lot more laid back than you see at first glance. He might even have gotten some of his personality from his Uncle Joey as well. Whatever happens next, Harger will probably still be adorable.