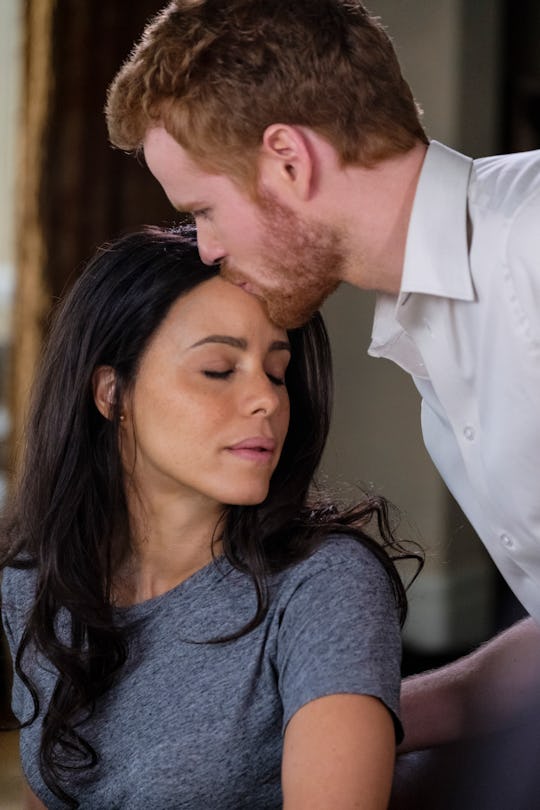 Courtesy of Lifetime
Lifetime's 'Harry & Meghan: A Royal Romance' Found The Perfect Meghan Markle
There are a ton of traditions that come with a royal wedding, and not all of them come straight from the palace. Every time a royal couple makes things official, Lifetime makes a movie about them and Prince Harry and Meghan Markle's impending nuptials are no different. Given that the bride-to-be is an actress herself, who plays Meghan Markle on Harry & Meghan: A Royal Romance? She could have just done it herself, right?
Actually, that almost happened, according to the producers on the film. Markle was so recently on casting circuits, that her name was still in a database that casting directors use before picking someone for their TV and movie roles. Executive producer Michele Weiss told Vanity Fair that they made sure the movie addressed Markle's former career and that they hope she sees it. "We talk about how Meghan has done Lifetime movies, Meghan has done Hallmark movies, [other] movies, and TV," Weiss stated. "If I were her, I would watch it, just for the thrill factor. We admire the couple, so we hope [that] if they watch it, they think it's funny, it's sweet, and that we hit on the historical import of their relationship." So since Markle will be watching it from Nottingham Cottage, who's going to play her?
Parisa Fitz-Henley was a perfect choice to portray the soon-to-be royal. For one, she really pulls off Markle's look. And she has a resume similar to that of the former Suits star. Her IMDB profile says that she really began acting in 2006, and has had small roles in big shows, such as Grey's Anatomy and House of Cards. Most recently, Fitz-Henley plays Reva Connors in Netflix's Luke Cage and Jessica Jones, which is probably where you recognize her from.
The Jamaican-born actress was thrilled to announce her role as Markle to her fans. She posted on Instagram right after the film was announced, "Psyched we can finally share! So happy to be doing this project w/ #MurrayFraser (we gotta get this dude on IG asap!) and @lifetimetv!"
Fraser's absence on Instagram seems to delight her though, as she has a handful of pictures of them together on set and attending the premiere of the film in Beverly Hills earlier this month.
At the premiere, Fitz-Henley said that part of what drew her to the Lifetime movie was that it focused a lot on Markle as an actual person and not simply arm candy for a member of the royal family. "I definitely wanted to be involved because I felt it presented Meghan as a full person, and this couple as a full couple," she explained.
Obviously, Markle is a "full person," but that realness can get lost sometimes in the narratives about the royal family.
One of the co-screenwriters, Scarlett Lacey, told Vanity Fair that they tried to keep the story as true to life as possible:
We tried to be really truthful. We used our imaginations in places, but there was so much available, from Meghan's own words. There were so many things we knew to be true, if not in words, then in spirit.
That attention to detail might make the palace a little uncomfortable. According to The Cut, the palace has seen some of the trailers and is a little worried about the scenes of the couple in bed. That's not the only possibly controversial scene. In the trailer, it looks like there is a fight about Markle keeping her lifestyle blog as well as scenes of them on secret undercover dates in Toronto. No wonder Fitz-Henley was so into taking this role on — it sounds like a roller coaster of emotions. We'll have to wait and see if Markle approves.