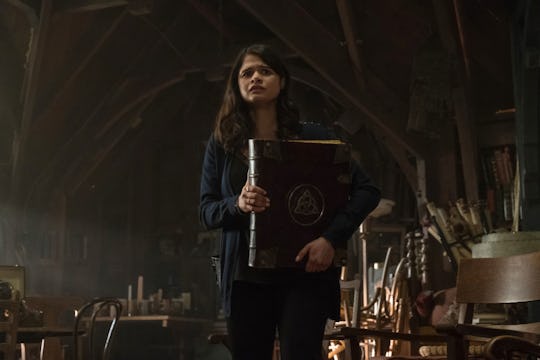 Katie Yu/The CW
Mel Is The Middle Sister On 'Charmed' And She's A Feminist Badass
Since the trailer for The CW's reboot of Charmed dropped, fans are both nervous and excited to see what it will look like without the original cast. While the original followed the Halliwell sisters, the reboot centers around an entirely new group of sisters — Macy, Maggie, and Mel. As the middle sister and an opinionated women's studies student, Mel is bound to inspire feminist vibes. So who plays Mel on the Charmed reboot?
Actress Melonie Diaz will play Melanie "Mel" Vera, the younger half-sister of Macy Vaughn (Madeleine Mantock) and older sister of Maggie Vera (Sarah Jeffery). The 34-year-old has been in number of films and TV shows, including The First Purge and Nip/Tuck. But her most notable role was that of Sophina in Fruitvale Station, which earned her critical acclaim and accolades. According to TV Line, in the Charmed reboot, Melonie's character is a lesbian, and is described as "a passionate, outspoken activist who loses her way" when her mother is murdered.
The series — which is set to take a more feminist approach and features characters of Latinx heritage — comes from Jane the Virgin producers Jessica O'Toole, Amy Rardin and Jennie Urman. The original series had a huge cult following, and many fans are torn about not seeing the original cast — Shannen Doherty, Alyssa Milano, Holly Marie Combs, and Rose McGowan — return. But the showrunners have been vocal about their perspective on the new show, and why they chose to go in this completely new direction.
At San Diego Comic Con this summer, Urman said that the original didn't need revisiting because it's stories were told in completion. "You know that there's passionate fans and you want to pay homage to the original, but also do something new," Urman said in an interview with Tell-Tale TV. "I was really mindful of not messing with anything of the original, because it exists and because people have put in so much hard work. And it was eight years worth of stories, and I didn't want to do anything that would change that fabric."
In an promo for the reboot, fans can see that Mel has powers to stop time, similar to the Halliwell middle sister, Piper (Holly Marie Combs). In the video, Melonie Diaz talks about her character's supernatural abilities and how she is initially surprised when she sees time freeze around her. "It's kind of very much a normal person who sees this magical thing happen, and she thinks she's going crazy," says Diaz. "When she finds out that it really is her power, it kind of makes sense and I think the reason why she was going crazy was because [she thought] 'I know something is not right and something is happening, but I don't know what it is'."
According to CW's series synopsis, Mel and Maggie are sisters, and they don't know that their eldest sister Macy even exists. But when their mother, Marisol, dies in a horrifying way, the sisters' magical powers begin to emerge, and with the help of their "Whitelighter" Harry Greenwood (Rupert Evans), the sisters learn of witch background, realizing that their mother was a witch all along. "From vanquishing powerful demons to toppling the patriarchy," reads the synopsis, "this powerful threesome must stand together to fight the everyday and supernatural battles that all modern witches must face."
From the promos, the new series looks like it's bringing a fresh and modern take on the original Charmed story. I know that many fans of the original had a favorite sister that they identified with, but the new cast and characters seem to be just as powerful and charismatic, so they should be just as easy to relate to.
The Charmed reboot premieres on Sunday, Oct. 14 at 9 p.m. ET on the CW.