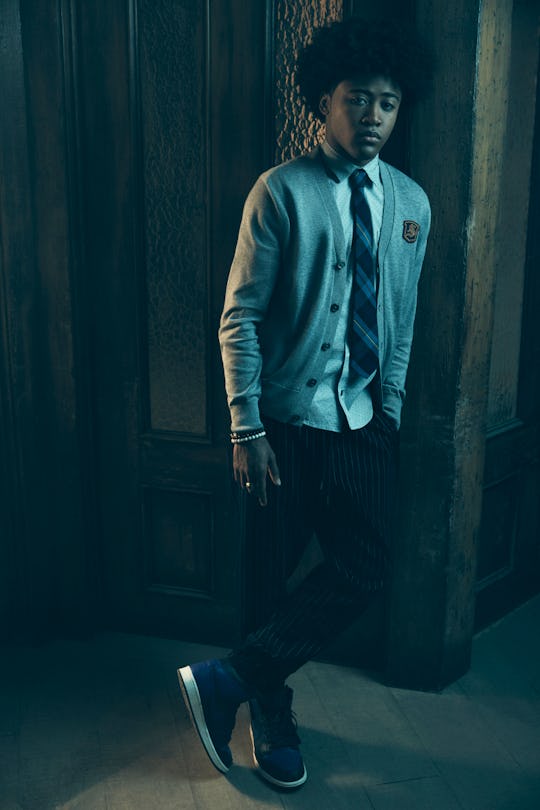 Miller Mobley/The CW
Quincy Fouse Joins 'Legacies' As A Popular New Vampire
After bringing The Vampire Diaries and The Originals to an end, the CW's new spin-off series, Legacies, is introducing fans to a new generation of supernatural teens. Set around a school for magical kids, the show follows Hope Mikaelson and the students she meets in school, including a popular vampire named Milton Greasley. The actor filling the role looks familiar, so fans are wondering, who plays MG on Legacies?
Actor Quincy Fouse is taking on the role of the smart young vampire on Legacies, and you may recognize him from some of his past roles. Fouse had a recurring roles on the ABC sitcom, The Goldbergs as a character named Taz Money, and he most recently played Malik on the Netflix series, All About the Washingtons. He was also in the last X-Men film, Logan, alongside Hugh Jackman, where he played the young farm boy whose family harbored and helped Wolverine.
On Legacies, Fouse's character is an outgoing teen attending The Salvatore School for the Young and Gifted, first introduced as headmaster Alaric Saltzman's (Matt Davis) student aide. In an interview with Shadow and Act, the actor described his character as a pure-hearted teen who is new to being a vampire, and who is just looking for love and acceptance from his peers. "When he was turned into a vampire he didn't know what to do with himself," said Fouse. "Because of his big heart, he felt like a monster, and then these people came to him and told him, 'Hey, you're fine, this is natural. This is the hand you have been dealt and we are going to teach you how to handle it.'"
Despite being a blood-thirsty vampire, MG is a charming and fun-loving teen, and his presence on the show so far has been pretty sweet. As his student aide, he was Alaric's go-to when Landon (Aria Shahghasemi) needed his memory erased and he seems to be a good friend to all the students around him. It will be interesting to see how MG fits into the larger narrative of the story line, because I don't think he's just there to compel people's memories away. He seems to have a pretty strong bond with Josie (Kaylee Bryant), and they lean on each other for strength. It's not clear whether their friendship will turn into a romance or not, but when talking to KSite TV, Fouse revealed that the two will share "the most solid" relationship this season because of their compatible personalities.
"MG is looking for this love and acceptance from people, and so he often puts himself in a place of service to other people in order to get that. His angle is a little bit naive in just receiving people's affection," explained Fouse. "Josie's a bit more grown up, and she does still live in that service, because she's here for people. She's here to support people. So there is a very big point of what the two people stand for, and that's why their relationship is so strong, because they won't use each other."
MG also seems to have a crush on Lizzie (Jenny Boyd), Josie's twin sister, and it looks like Josie's evil ex-girlfriend, Penelope (Lulu Antariksa) is using him to get back at her. In the first episode, Penelope seduces MG, kisses him, and then invites him to take a bite into her neck. Josie interrupts just in time to stop him, and he later apologizes to her for falling for Penelope's charms. In Episode 2, Penelope tells MG that she's going to help him win Lizzie over, but he questions her motives, asking her if she's only doing it to get back at Josie. How their love quadrangle plays out — with sincere friendship, romance, and vengeance in the mix — will be exciting to see. And hopefully, fans will get to see more of MG as the season continues.
New episodes of Legacies air on Thursdays at 9 p.m. ET on The CW.