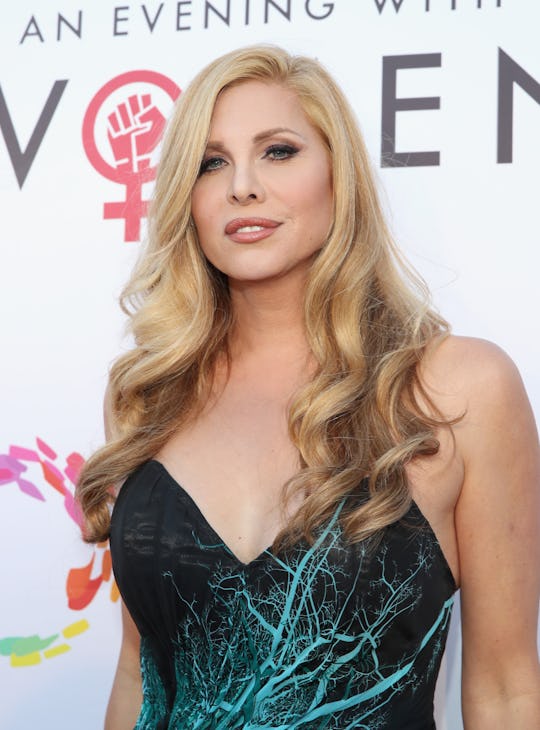 Jonathan Leibson/Getty Images Entertainment/Getty Images
Candis Cayne Joins 'Grey's Anatomy' In An Inspiring Role
On Thursday night's episode of Grey's Anatomy all the doctors were preparing to compete in the new Grey Sloan Surgical Innovation Contest, and though Jackson already had an idea his mother, Katherine, had a different one. Her "old" friend, Michelle Velez, is a trans woman who has a plan for a revolutionary surgery that can help all trans women. So who plays Michelle on Grey's Anatomy? Candis Cayne got the inspiring role.
During the episode, Michelle approached Katherine and Jackson with a new way to perform a vaginoplasty, which is the surgical construction or reconstruction of a vagina. Although the surgery already exists, Michelle pointed out that the way the surgery is done now, it doesn't provide much satisfaction for trans women. Additionally, she noted the surgery is high risk of prolapse and narrowing. Therefore, she wanted to discover a tissue that could be used in the surgery that would be smooth, have elasticity, and provide moisture, like a real vagina. And she already had an idea for where the tissue could come from.
Michelle suggested they use some of the tissue from the adominal membrane. And to make things even more interesting, Michelle suggested that she be the first patient this is attempted on, which is why she needs Katherine and Jackson's help, because she obviously cannot operate on herself. Michelle also pointed out that while this would surgery would be primarily for trans women, it could also help cis women as well as they too will sometimes get a vaginoplasty.
Although Jackson resisted taking on the project, noting that trans people only make up one percent of the population, he was reminded by Meredith that one percent is still millions of people. Additionally, Katherine also brought up the number of trans people who end their lives, and how though this surgery may seem small, for them it could save their lives.
After much thought, Jackson decided to work with his mom and Michelle and take on this new kind of surgery. Not only that, but their project was selected to go one to the next round of the contest, which means Michelle, and therefore Cayne, will be sticking around, at least for a little while.
It was announced last week that Cayne would be joining Grey's in a multiple-episode arc this season. The character of Michelle is actually inspired by the story of Hayley Anthony, a trans women who helped Jess Ting, the director of surgery at the Center for Transgender Medicine and Surgery at Mount Sinai, create a groundbreaking new procedure for vaginoplasty surgeries.
Many fans were happy and excited about not only the incredible storyline, but also just seeing Cayne on their TV screens. Cayne was the first trans actress to play a recurring trans character in primetime when she was a party of ABC's Dirty Sexy Money, back in 2007. She's also appeared in a number of other TV series including The Magicians, Heartbeat, Nip/Tuck, and Transparent. You may have also recognized her from her appearances on I Am Cait.
Cayne's new role on Grey's shows a continued effort on the show's part to shine a light on trans' characters that isn't about their transition, but is instead about them as people. Earlier this season, one of the interns, Casey Parker (played by out trans actor Alex Blue Davis), revealed to Bailey that he was a "proud trans man" after he helped save the hospital from a hacker. In this way, the fact that Casey is trans isn't his whole story nor is it his main story on the show. Grey's has always been groundbreaking with it's storytelling and it's great to see that continue in this new way.
Check out Romper's new video series, Romper's Doula Diaries:
Watch full episodes of Romper's Doula Diaries on Facebook Watch.