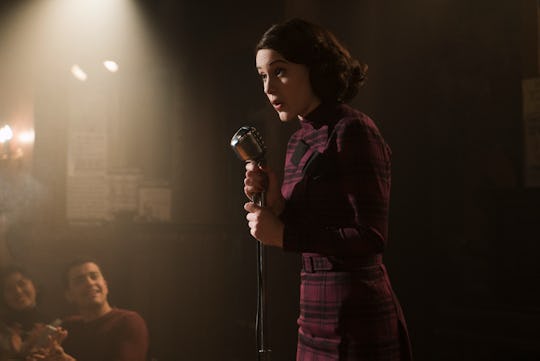 Amazon
You've Definitely Seen The Star Of 'The Marvelous Mrs. Maisel' Before
I've always been somewhat awed by the courage it must take for stand-up comedians to get up on stage and make people laugh for hours at a time. It must have been doubly hard for a sheltered 1950s housewife like the main character of Amazon's new series. So who plays Midge on The Marvelous Mrs. Maisel? The role of this fearless (and hilarious) woman is played by Rachel Brosnahan, who says that in real life she does and does not resemble her character. She has also said that she shares my admiration for stand-up comics.
This is Brosnahan's first starring role in a television series, but it is far from her first professional gig. It is being called a "breakout" role for her, but it isn't the first time she's said to have broken out either. The first time came from her role in House of Cards, in which she played Rachel Posner, the call girl that led to Russo's downfall, and eventually became the object of Doug Stamper's creepy obsession. Her character was only supposed to last for a two-episode arc with a grand total of five lines. But then showrunner Beau Willimon was so impressed with her work, he began to think about what it would mean to bring back Rachel as a fully-realized character.
In the Chicago Tribune, Willimon praised Brosnahan's performance. "She had done such a fine job those first two episodes that I started exploring what it would mean to bring her character back and fully three dimensionalize her," Willimon said. "Rachel was so fantastic when we brought her back that I just wanted to write for her more and more." While Brosnahan's character met her untimely demise at the hands of Doug, Brosnahan's career as an actor was just gaining steam. Brosnahan even earned an Emmy nomination for the role. Now she is helming her own TV series.
Brosnahan hails from Chicago's Highland Park, but has lived in New York City for the past decade. She attended New York University and has been acting in various small roles since 2009 according to her IMDB page. Her earliest roles have titles like "Girl" as in her appearance in Gossip Girl, but she's clearly come a long way since then. She has worked alongside some of my own personal thespian heroes. Some of her notable appearances include playing Patty Howe alongside Frances McDormand in Olive Kitteridge and acting in Beautiful Creatures with Emma Thompson and Jeremy Irons.
Now, it appears that this is finally Brosnahan's it-girl moment. "I can finally say I'm a professional actress," she said toVanity Fair in the magazine's profile of the actress. Though she seems practically born for the role, she insists that she is no stand-up comedian herself, and the idea of performing an actual stand-up set is nothing short of terrifying. To The New York Times, Brosnahan said, "The idea of doing an open mic makes me throw up," and described her feeling when shooting the stand-up scene in the pilot episode as "horrified just petrified." Additionally, Brosnahan also said to the Chicago Tribune:
I'm performing in arguably the most controlled environment and real stand-up feels so chaotic to me in a way that I'm sure it's addicting for people who are good at it and enjoy that kind of thing, but, ooof, it's so brave, I could not, no.
So for anyone hoping to catch a glimpse of Brosnahan's own comic chops, you will have to settle for watching her character do the heavy work of actually performing. This may be Brosnahan's biggest role yet, but I have no doubt that this is just the beginning of her career.
Check out Romper's new video series, Romper's Doula Diaries:
Watch full episodes of Romper's Doula Diaries on Facebook Watch.