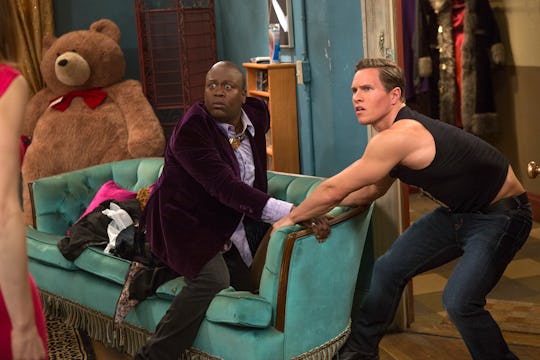 Eric Liebowitz/Netflix
Who Plays Mikey On 'Unbreakable Kimmy Schmidt'? Titus's Love Interest Is Great
On Season 2 of Unbreakable Kimmy Schmidt, we run into one of Titus Andromedon's former flames — a construction worker named Mikey whom Titus helped usher into queerness back in the day. Mikey still hasn't come out to anyone else yet (because being a gay construction worker is a bit stigmatizing, obviously), but he does manage to charm Titus into striking up a relationship. Titus isn't exactly sure whether or not he wants to be responsible for queer eye-ing Mikey through his fledgeling identity, but he begrudgingly agrees to go out with him for Mikey's "first gay date." So, who plays Mikey on Unbreakable Kimmy Schmidt?
Mike Carlsen is no stranger to Tina Fey's gang. He appeared on a 2010 episode of 30 Rock, incidentally, also playing an unnamed construction worker, which will certainly lead some fans to speculate whether he's the same character, utilized as an easter egg to connect the 30 Rock and Kimmy Schmidt universes. (If this is the case, then Tina, bless you.) You may also remember Mikey from Season 1 of Unbreakable Kimmy Schmidt, as the cat-calling construction worker Kimmy convinces to examine his obnoxious behavior. He realizes that the reason he catcalls is because he envies women for being with men — he's actually gay! He tries to ask Titus out then, but Titus retorts with a directive to try again in ten years. It's only been one, but Titus seems to be down for it this time around!
Carlsen's role on Kimmy Schmidt appears to be his biggest break thus far, with a whopping 7-episode recurring guest arc in Season 2. Mikey and Titus reunite over a massive wardrobe purge that results in Mikey picking up some of Titus's abandoned fashions, such as his limited edition Air Jordache thigh-tops. When Titus goes looking for his old clothes again, he discovers them in Mikey's pick-up truck, but doesn't remember Mikey. A person never forgets their first same-sex crush, though, so Mikey immediately recognizes Titus as the first guy he ever hit on, and considers running into him after all this time "a sign."
Eventually, Titus gives in, and agrees to go on another date with Mikey, whose gruff bro/baby queer vibe is too adorable to resist! Plus, his sheepish masculine energy is the perfect accent to Titus's eccentric character. This is definitely a couple we can get behind rooting for in the Kimmy Schmidt universe, even if Liz Lemon and Kimmy never cross paths.