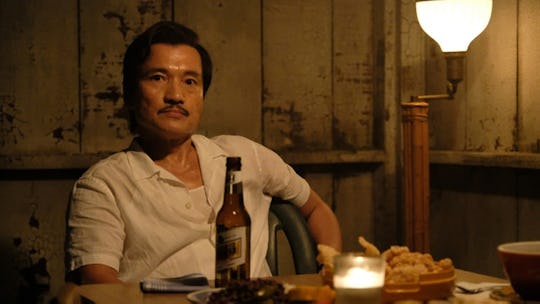 Ray Mickshaw/FX
Who Plays Modesto Cunanan On 'The Assassination Of Gianni Versace'? Jon Jon Briones Has A Long Resume
If you thought Darren Criss' portrayal of Andrew Cunanan was compelling and disturbing, just wait until you get a load of the man acting as his dad. So who plays Modesto Cunanan on The Assassination of Gianni Versace? Jon Jon Briones has a resume a mile long, but after this performance I don't know why he's not starring in everything. The show's narrative takes viewers backwards in time as elements of Andrew's personality and upbringing become clearer, and nothing gave a more nuanced portrait of his strange childhood than Episode 8. The episode centered almost as much around Modesto as it did Andrew, including his tendency to lie, defraud, and abuse people. Something about apples and trees.
Briones' performance as Modesto was illuminating because it showed viewers many of the reasons Andrew was the way that he was (it turns out his father really did give him the master bedroom!). It was wonderful also because Briones was so convincing as the enigmatic and complicated patriarch. And if you were thinking during the episode that Briones' looked familiar, I wouldn't be at all surprised, particularly if you're a theater fan. Briones has credits in single episodes of TV shows spanning the past 15 years. But his biggest role has been a particular part in a particular beloved Broadway show.
While Briones has been acting since at least the early 2000s, according to his IMDB page, he is also an accomplished theater actor. Briones was a part of the original cast of Miss Saigon when it opened back in 1989. Briones was an engineering student in the Philippines when he decided to audition for the show almost on a whim. Before he knew it he was flown to London to open the show in a small bit part. As the show grew more popular and started touring all over the world, Briones eventually took on the starring role of The Engineer, originated by Jonathan Pryce.
Briones played The Engineer in productions of the show all over the world, from Germany to his native Philippines, before he was asked to actually audition for the role to play it in the 25th anniversary revival at the Prince Edward Theatre in London in 2014. He obviously got the part, which led to his taking it on to Broadway, where he played the role until the show ended on January 14, 2018. The show is set to launch a national tour in September of this year, and I have a pretty good idea of who The Engineer is going to be.
Basically, Miss Saigon has been a part of Briones' life for longer than it hasn't been. "Miss Saigon has changed my life. That would be an understatement," Briones said in an interview with The New York Times in the video above. The show garnered a lot of controversy for having a white actor play an Asian character when it first debuted, but Briones says that since then, the show has actually opened a lot of doors for Asian actors. To The New York Times he said, "I was 22, and left the Philippines for the first time. And now, for me to be playing the Engineer on the biggest stage of all, it's an honor and it's a responsibility. I truly believe that, because of Miss Saigon, Asian actors are seen in a different light."
Now I'm just upset that I didn't go and see Miss Saigon while it was still on Broadway. I guess I'll just have to wait for the North American tour this coming fall.
Check out Romper's new video series, Romper's Doula Diaries:
Watch full episodes of Romper's Doula Diaries on Facebook Watch.