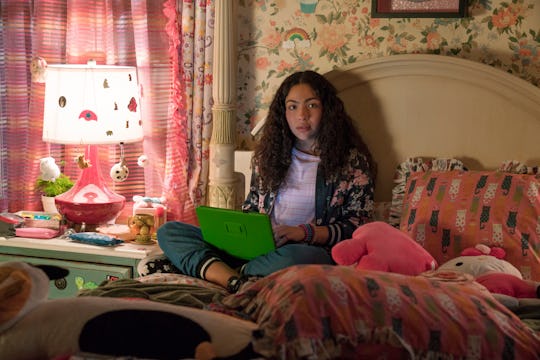 Greg Lewis/Hulu
Molly Hernandez From 'Runaways' Wants To Be A Role Model For Young Girls
If viewers haven't noticed, many child and teenaged stars weren't born at the start of the millennia. Allegra Acosta, who plays Molly on Hulu's latest show Marvel's Runaways, is an example of that. At 14-years-old going on 15 next month, she was born in 2002. She's a new face to me, but will some viewers recognize her? Did she start acting as a girl, or is this her big break? Who plays Molly Hernandez on Runaways? Her professional career just began two years ago.
According to Hulu's bio, Acosta has been acting since her family moved from El Paso, Texas to Los Angeles when she was only nine years old. She appeared in 100 Things to Do Before High School, which was a Nickelodeon show about kids figuring out what activities to do while they're in middle school (for those, like me, who don't watch Nickelodeon too often anymore). Acosta also appeared in the Amazon series Just Add Magic, a show about preteen chefs who discover a book about magical recipes. Clearly, I've been sleeping on my children's programming because I think that actually sounds awesome. Aside from acting, Acosta also sings and is a part of a competitive dance team.
So who is Molly Hernandez, Acosta's Runaways character anyway? Hulu describes Molly as strong willed and someone who tells it like it is. Not only is Molly the youngest of the teenaged crew, but Acosta is playing the first Latina superhero in film. Molly's character was originally named "Molly Hayes" in the comics, and was white with red hair. Producers changed her name to "Molly Hernandez," and she's now Latina. "They changed it to a Latina character which is amazing," Acosta told StyleCaster. "This is the first Latina superhero ever in film. I can't believe that. I've never seen that before."
Acosta is proud to be a part of Runaways, a show that celebrates diversity. "It's so important to me that this is a group of six badass ethnically diverse and different in personality female-centric character-based show," she told The Hollywood Reporter.
Acosta is not afraid to get political when it comes to the diverse cast in Runaways. "What's really important about our show is that we showcase different ethnicities and it's female-centric," she told StyleCaster in the same interview. "We have a show that might not appeal to [Trump's] audience, but will appeal internationally. The reason that our generation, Generation Z, will be the change is because we don't necessarily just want to make an impact, we want to make a change."
Because Acosta's a part of Generation Z herself, she understands the pressure girls face when it comes to social media. She wants to be a role model for those her age and younger. In an interview with People, she shared that it's OK to be different. "[Social media] commentary can make girls not feel beautiful or worthy, and I think a lot of things make girls feel like that because of an unattainable beauty standard," she said. It seems that Acosta is already using the platform Runaways will give her as a way to champion diversity and body positivity, which is great to see.
Given how young Acosta is, I have a feeling this is only the start of her blossoming career. I'm excited to see how she will portray the character of Molly and what her characters' arc will be. Until then, I'll be sure to check out her Instagram, and come to admire her more than I already do.
Check out Romper's new video series, Romper's Doula Diaries:
Watch full episodes of Romper's Doula Diaries on Facebook Watch.