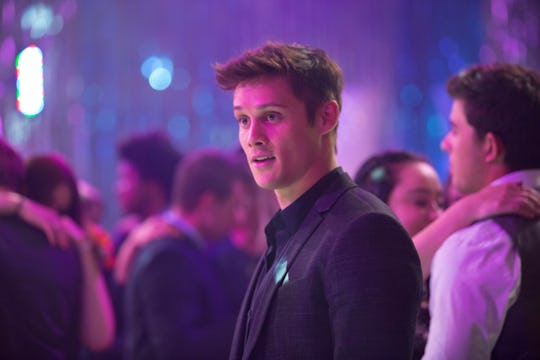 Beth Dubber/Netflix
Monty's Arc In '13 Reasons Why' Season 2 Could Shed A New Light On His Behavior
The second season of 13 Reasons Why will introduce a number of new characters, but there will also be a lot of familiar faces. One of those familiar faces is Montgomery (aka Monty), a baseball jock. While you may not remember Monty in the first season because he wasn't one of the major subjects on the tapes in the first season, he could become an important player in Season 2. So who plays Monty on 13 Reasons Why? Timothy Granaderos is returning to reprise the role.
If you don't remember Monty, there's only two things you really need to know. First, he played a major role in spreading the rumors that Hannah was gay and asked Courtney for a threesome with Laura, an openly gay student. Second, he was the guy who got into a fight with Alex and was then sentenced to a three-day suspension while Alex got off the hook with a warning. So yeah, he doesn't exactly have a stellar reputation with viewers so far. But hey, maybe he'll be able to redeem himself in Season 2? Fans will just have to wait and see. The good news is that the actor who plays Monty seems nothing like his character.
Besides his work on 13 Reasons Why, Granaderos has had roles on a number of other TV shows, including Rosewood, Lab Rats, CSI: Crime Scene Investigation, Liv and Maddie, Undateable, Chasing Life, and Runaways. You may also recognize Granaderos from his starring roles at Taylor Price in In the Vault and Ash in T@gged.
The actor has also had appearances in the films Killing Animals, We Are Your Friends, The Standoff, and The Archer. Following 13 Reasons Why, he'll be in the TV movie How May We Hate You?
Although Granaderos continuously plays a teen, it may surprise you to know he's actually 31 years old, though he certainly doesn't look it. He actually revealed to Teen.com that he auditioned for a number of roles on 13 Reasons Why, including Justin Foley, Tony Padilla, and Jeff Atkins, before he was finally cast as Monty, thus no matter what role he played, he was always going to portray a teen.
While Granaderos may be one of the older people on set, prior to the filming of Season 2 he told Teen.com he was excited "to go back and hopefully hang out with all of those people again." It's clear the cast is incredibly close and have remained that way on and off set.
When Granaderos isn't busy working, he's traveling and spending time with his girlfriend, Katie Dixon as well as his friends, and his family. Prior to getting into acting, Granaderos attended Michigan State where he played for the soccer team, and it's obvious he's kept up his athleticism since graduating.
Granaderos' acting career appears to be on the rise right now and it'll be great to see where his character goes in Season 2 of 13 Reasons Why. Unlike the main characters in the first season, Monty was a pretty one-dimensional bully. Fans didn't get to know much about him in the first season other than that he plays baseball and wasn't a really nice person. However, as the first season showed us, no one's that simple and there's always two sides to every story. Whether or not learning more about Monty will make fans more sympathetic to his character remains to be seen though. It could be just be that Monty is exactly the kind of guy everyone thinks he is, but knowing 13 Reasons Why, it's probably more complicated than that.
You can learn more about Monty in Season 2 of 13 Reasons Why, which is now streaming on Netflix.
If you or someone you know are experiencing suicidal thoughts, call 911, or call the National Suicide Prevention Hotline at 1-800-273-8255.