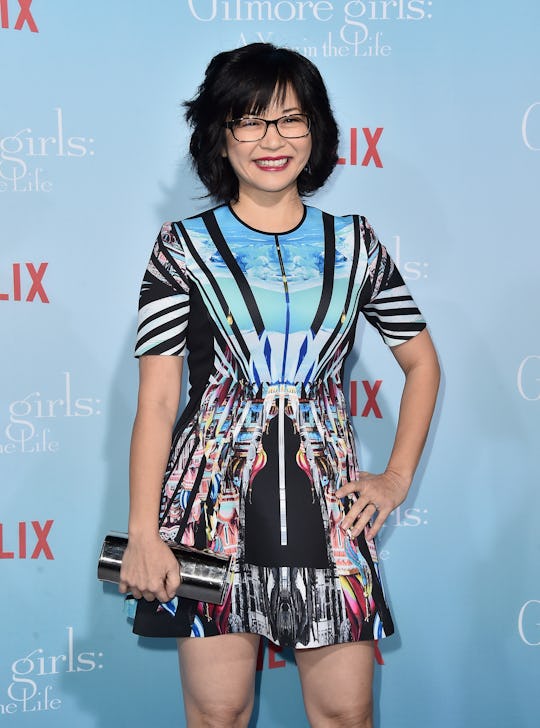 Alberto E. Rodriguez/Getty Images Entertainment/Getty Images
'13 Reasons Why' Nabbed A 'Gilmore Girls' Alum
The cast of 13 Reasons Why is filled with up and coming actors, but there's also a few familiar faces. Most notable are the adults in the cast who make up the parents and faculty who are also affected by Hannah Baker's suicide. Amongst that group is Hannah's teacher Mrs. Bradley. So who plays Mrs. Bradley on 13 Reasons Why? Gilmore Girls alum Keiko Agena snagged the role.
Most people will recognize Agena as Lane, Rory Gilmore's best friend on the dramedy that centered around the fictional small town of Stars Hollow, Connecticut. Agena reprised her role in the revival, A Year in the Life, last year. Prior to her role on Gilmore Girls, Agena got her start making appearances on shows like Sister, Sister, Beverly Hills, 90210, Felicity, Strong Medicine, and Without a Trace, just to name a few. After Gilmore Girls came to an end, Agena had recurring roles on Kim Possible, Shameless, LearningTown, Twisted, Super(fluous), Ex-Best, The Room Actors, Sweet/Vicious, and Colony. She's also appeared on the big screen in The Night Is Young, Transformers: Dark of the Moon, The Perfect Party, Cats and Mice, and Labor Pains.
If you read the bestselling novel by Jay Asher, which the show is based on, you may be wondering who Mrs. Bradley is — but don't worry, she wasn't in the book. In fact, she joins the long list of characters that were added to the show. Along with Mrs. Bradley, there's also Tony's boyfriend Brad, Hannah and Clay's parents, along with all the other parents that appear in the show as well as the Principal and Vice Principal. While the additions may seem like a lot, they actually add to the show's plot rather than take away from all the main parts of the novel.
Besides Agena, there are a few other characters that will probably look familiar to viewers. Kate Walsh from Grey's Anatomy and Private Practice plays Hannah's mom; Miles Heizer from Parenthood plays Hannah's former friend, Alex; Dylan Minnette, who plays the protagonist Clay, appeared on Scandal as Fitz and Mellie's eldest son Jerry; and both Derek Luke, who plays Mr. Porter, and Ajiona Alexus, who plays Sheri, appeared on Empire.
It's clear the show, which was executively produced by Selena Gomez, has an all-star cast, which only helps to draw viewers into the very important storyline. Fans who've read the book and those who haven't will be instantly hooked.
13 Reasons Why will be available for streaming on Netflix beginning on Friday, March 31.