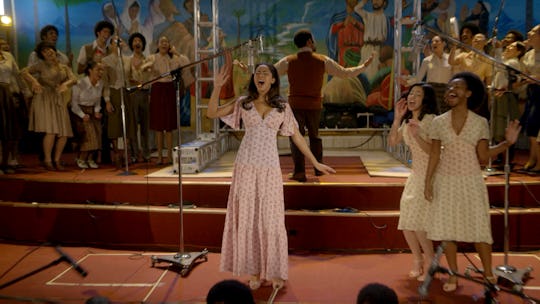 Netflix
Who Plays Mylene Cruz On 'The Get Down'? She's A Talented New Singer
In The Get Down, Mylene Cruz is introduced singing, and there couldn't be any better introduction for her character. It showcases not only the breadth of her considerable talent but her passion for music and the freedom she finds in singing. Mylene wants to use her voice as a tool to get out of the life she has so that she can have the life she wants and seeing her sing makes the audience believe she can do it – if she only gets the chance. Mylene makes an impression right out of the gate and it's thanks to the talented young actress behind the character. But who plays Mylene Cruz on The Get Down?
Mylene is played by Herizen F. Guardiola, an up and coming actress with only one other credit to her name. She appeared in the 2015 film Runaway Island but not in a major role, making Mylene her real debut and first lead part. It's a challenge that she handles well. Guardiola is another relative unknown in a cast full of them, and prior to the role she had been primarily a singer/songwriter. At only eighteen, her career is just beginning, but she's already off to an auspicious start.
Of her casting, series creator Baz Luhrman said, "So many really talented actors were seen to play the lead female role of Mylene Cruz, daughter of Rev. Ramon Cruz and niece of Papa Filipe Fuerte Cruz in The Get Down. It's always thrilling to find a fresh unknown talent, particularly one who is not only a terrific actor but a magnificent vocalist."
Guardiola may just be starting out but you'd never know from the confidence she imbues Mylene with. Mylene is battling her way through a lot of obstacles: not only does she have relative obscurity and limited options to contend with, but she's also got a tricky home life. Her father is a reverend who refuses to let her sing any kind of music except church music and imposes strict boundaries on her, which conflicts with Mylene's love of disco and desire to get out of the Bronx. It's a familiar story, but thanks to Guardiola's performance and the show itself, it still feels fresh.
There isn't much information available about Guardiola outside of the show, but that's sure to change as soon as people hear her sing and watch her bring Mylene's strength and ambition to life.