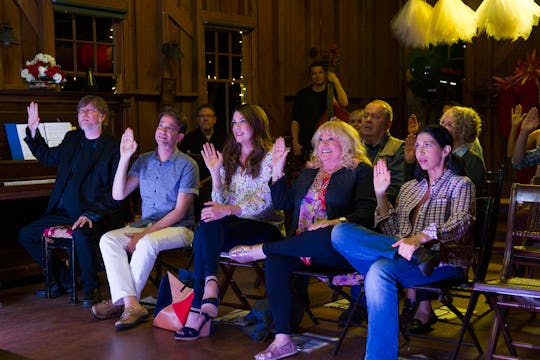 Saeed Adyani/Netflix
Who Plays Nat On The 'Gilmore Girls' Revival? Eric Henry Plays The Awkward Character
In the world of Gilmore Girls, Stars Hollow is known as a small, quirky town that hosts weird events with even weirder people. As town councilman, Taylor has done some very strange things in the town. No one will ever forget the short-lived Stars Hollow museum. However, the Stars Hollow musical may be Taylor's wackiest idea yet, although Lorelai was the only one who seemed to think so. Taylor wrote the musical with the help of playwright Nat Compton, who looked so uncomfortable the entire time he was on screen and never said a word. Eric Henry played the role of Nat on the Gilmore Girls revival perfectly and this may be the stepping stone for him to get even bigger roles in the future.
Prior to Gilmore Girls: A Year in the Life, Henry appeared in a few TV shows and shorts including In the Cut, Review, Rock in a Hard Place, Last Week Tonight with John Oliver, and Togetherness. Although Henry only appears in one episode of A Year in the Life, fans definitely took notice of him because his character was so odd, as most Stars Hollow residents are. Nat varied from looking either bored or on the verge of death anytime he was onscreen and it seemed like Taylor really wrote the musical and just dragged poor Nat along to make it look like a professional playwright had some part in the creation of Stars Hollow: The Musical.
Fans really loved how awkward and out of place Nat seemed and though I think the revival could've done without the musical in general, the appearance of Henry, along with the musical talents of Sutton Foster and Christian Borle, made it worth it.
Now that the Gilmore Girls revival is done Henry has a few more projects lined up for the future. His fans can see him on Criminal Minds and Colony in 2017. He'll also be in the TV movie Sunny Side Up! and the film Liza, Liza, Skies Are Grey, both of which are scheduled to come out next year.
If you haven't had the privilege of seeing Nat in action in Stars Hollow, make sure to watch Gilmore Girls: A Year in the Life, which is now streaming on Netflix.