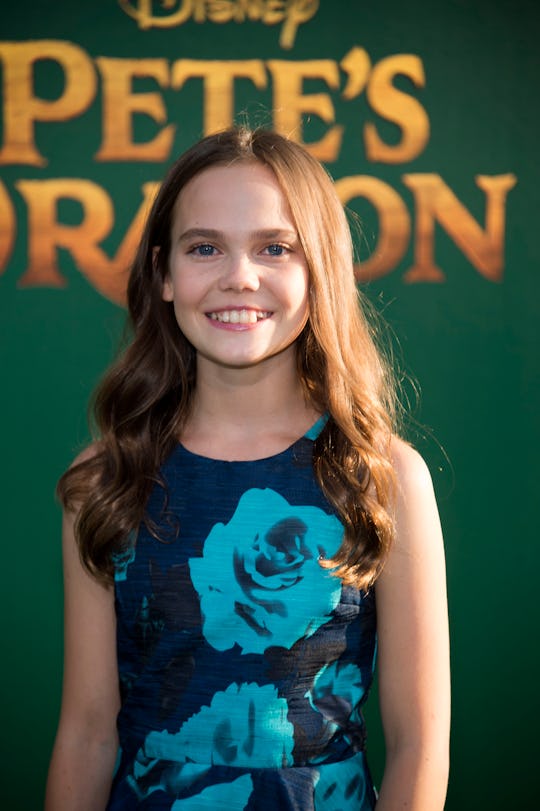 VALERIE MACON/AFP/Getty Images
Who Plays Natalie In 'Pete's Dragon'? Oona Laurence Has A Bright Future Ahead
Pete's Dragon — the 2016 remake of an infamous Disney classic bearing the same — is slated to open in theaters later today, and while some are wondering how the updated film will differ from the original, others are asking questions about the cast. Mainly, many wondering who the film's youngest cast members are. For example, who took on the role of the title character, Pete, and who plays Natalie in Pete's Dragon? It seems Oakes Fegley and Oona Laurence beat out thousands of other children for their respective roles, proving they are both very talented and have bright futures ahead.
Fegley, who plays Pete, began his acting career in 2014 — as the young Paul Swann in Fort Bliss. He went on to make several appearances in Boardwalk Empire and CBS's Person of Interest, and played the role of young Judd in This Is Where I Leave You, but Pete is Fegley's first titular role.
As for Laurence, the 14-year-old — best known for her roles in Southpaw and Bad Moms — first appeared onscreen in an episode of Celebrity Ghost Stories. (Laurence played "young Phyllis" and Phyllis Diller's daughter.)
When Screenrant asked how Laurence felt when she learned she had been cast as Natalie, Laurence said she was "really excited" about being in Pete's Dragon:
[I was] really excited...[a]nd the fact that it's a Disney film. I mean, I've wanted to do a Disney film for, like, as long as I can remember and it's just really cool that I got that opportunity.
And Fegley echoed a similar sentiment:
It was very exciting...like you were saying, it was a worldwide search. I was thinking, there is no way I'm going to get this. And just to think I had gotten it — and I have been able to do that — is really cool.
Neither Fegley nor Laurence have read the Pete's Dragon book, and only Fegley saw the original film, which Fegley told Screenrant is nothing like the version he and Laurence star in:
I have seen the movie now, after filming this, and it's completely different. Not even remotely the same.
And Laurence added the latest version of the film is "new and improved."
Pete's Dragon is slated to open in theaters across the U.S. on Friday, and the film will be viewable in both 3-D and on standard screens. And, at the time of this report, a worldwide release date has not yet been announced.