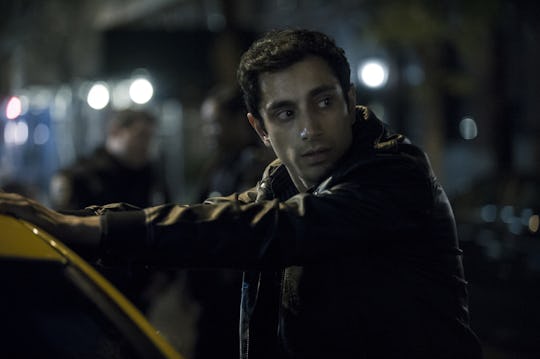 Barry Wetcher/HBO
Who Plays Naz On 'The Night Of'? Riz Ahmed Is One To Watch
HBO's newest drama The Night Of sounds like a sordid true crime story ripped straight from the headlines. A young, Pakistani-American college student is accused of murdering a wealthy, young white woman, and his lawyer sets out to prove he didn't do it. If that sounds vaguely similar to the hit podcast Serial, you're not alone in thinking so – several critics brought up the comparison. The first episode of the show played out like a masterfully wrought slow-motion car wreck, as the audience watched lead character Naz incriminate himself in the crime more and more. The incredible direction, cinematography, writing and performances have garnered almost immediate critical acclaim. But who plays Naz on The Night Of?
Naz, the hard-pressed (but also possibly guilty) protagonist of our tale is portrayed by the very talented English actor Rizwan "Riz" Ahmed. Ahmed is both an actor and a rapper, going by the professional moniker "Riz MC" in his music career. One of his best known singles, "Post 9/11 Blues," is a satirical song about terror. The single was deemed too controversial and "too politically sensitive" to play on the radio in the UK. Riz MC's debut album MICroscope was released in 2011, and his latest, Englistan, was released earlier this year.
On the acting side, Ahmed has appeared on television before – he played a lead role in Dead Set, the critically-acclaimed and award-nominated British zombie horror series set in the Big Brother house (which, basically, I need to watch ASAP). Ahmed also wrote and directed an award-winning drama short called Daytimer, which premiered at Sundance 2015.
But you're most likely to recognize Ahmed's face from a few acclaimed supporting performances on the indie film circuit.
The Road to Guantanamo
Ahmed first rose to prominence in the docu-drama The Road to Guantanamo. He starred as Shafiq.
Shifty
Ahmed starred as the titular character in Shifty, a thriller about a young crack cocaine dealer in London. He won a Geneva Cinéma Tout Ecran Award for the role.
Four Lions
Ahmed played Omar, one of four "incompetent British jihadists" in the award-winning black comedy Four Lions, which was also named by TIME as one of 2010's top 10 movies.
Ill Manors
Ahmed starred as Aaron, a drug dealer, in hip-hop artist Plan B's well-received directorial feature debut.
Nightcrawler
Ahmed played Rick, the beleaguered assistant cameraman to Jake Gyllenhaal's unhinged Lou Bloom.
2016 is shaping up to be a huge year for the 33-year-old actor. With his starring role as Naz in The Night Of already garnering critical attention, he'll also be appearing in two movies in major film franchises later this year. He will be playing Aaron Kalloor, a tech specialist at the CIA in the upcoming Jason Bourne alongside Matt Damon, and as Bodhi Rook, a former Imperial pilot in Rogue One: A Star Wars Story alongside Felicity Jones. Ahmed's star is definitely on the rise.