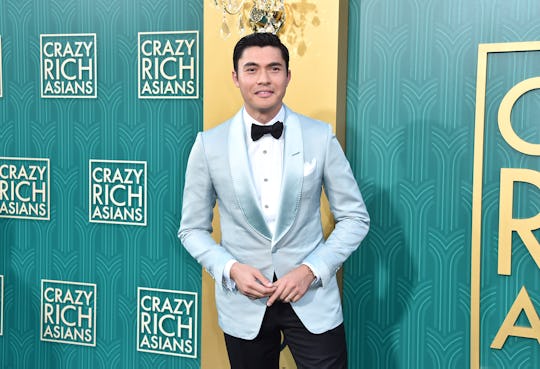 Alberto E. Rodriguez/Getty Images Entertainment/Getty Images
After Watching "Crazy Rich Asians," You'll Remember Henry Golding
Crazy Rich Asians is a film that introduces audience members to a lot of things. Not only will some people see people who live a life that is that opulent on the big screen for the first time, but they'll also be introduced to new actors and actresses they haven't been familiar with before. After seeing the movie, people will definitely want to know who plays Nick in Crazy Rich Asians — because he is one newcomer that people won't forget once they leave the theater.
To put it simply, Nick is played by Henry Golding. In the film, he introduces his girlfriend, Rachel Chu, played by Constance Wu, into an opulent and incredible lifestyle in Crazy Rich Asians. But, in real life, it was Wu who did that to Golding when it came to Hollywood. This is because Golding is a total newcomer to TV screens and film screens in the United States, according to The Hollywood Reporter. Like the film, which is more or less a modern retelling of Cinderella, Golding has a Cinderella story of his own.
When it came to casting Crazy Rich Asians, which is an adaptation of the 2013 book of the same name, the film's director, John M. Chu, had a hard time finding the right person to play Nick, according to The Hollywood Reporter. After finding eight finalists for the role, Chu told The Hollywood Reporter that none of them had felt right. It wasn't until Chu "received a tip" about Golding, which led Chu to social media stalk the actor, who at the time, was a presenter for the BBC and Discovery Channel Asia.
After Golding did a few tests, Chu knew he had found his leading man.
Although Golding had done his fair share of television hosting, he did want to give acting a try, according to Vulture, which means that this is Golding's first time ever appearing on the silver screen. Golding was born in Malaysia, before his family moved to England when he was eight, according to Vulture. After working as a hair dresser, Golding turned to TV hosting. But it seems like his career in film is here to stay — after booking Crazy Rich Asians, Golding booked A Simple Favor, where he stars as Blake Lively's husband, which is coming out this September, according to Vulture.
Not too shabby for a newcomer. Golding told the Los Angeles Times that he is pretty pleased with his journey to stardom and his newfound career:
I had this bright idea of wanting to become a presenter, so I moved back to Malaysia and Singapore to be a travel host, work for the BBC and Discovery Channel — and then John Chu found me for this amazing project. He convinced me that I should be an actor, and that I should throw caution to the wind and audition for him, which I did. Now I'm here. Three movies down, more to come, and I'm happy.
Like Golding's character in Crazy Rich Asians, he isn't single, according to PopSugar. In 2016, Golding married Liv Lo, a Singaporean TV host and yoga instructor, according to Shape, and they post the cutest couple photos on Instagram, giving a meaning to #couplegoals.
Thanks to Crazy Rich Asians, both of their lives have officially changed forever. But Golding doesn't seem to mind. Now that he has a taste for Hollywood, Golding told the Los Angeles Times that he is here to stay. "I want to bring back that old Hollywood charm," Golding said. "I want to be a leading man who is suave and sophisticated."
You can definitely sense that in Crazy Rich Asians and the crazy thing is, this movie is only the beginning of that.