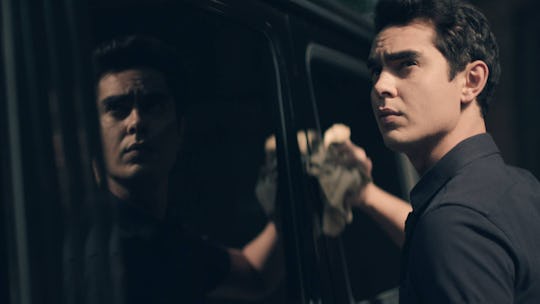 Take Five/Hulu
Nick From 'The Handmaid's Tale' Has Shown Up On Hulu Before
The Handmaid's Tale tells the story of a bleak future in which women lose all agency for themselves and are at the mercy of the new United States called Gilead, which is run by a fundamentalist theocratic dictatorship. The protagonist is Offred (Elisabeth Moss), a Handmaid whose sole purpose is to become impregnated by her assigned Commander because his wife is infertile. Though Offred's life is certainly terrible, she does have those around her who make it bearable, including the Commander's chauffeur, Nick. So who plays Nick on The Handmaid's Tale? Max Minghella will play an important part in the series.
Fans may recognize Minghella from another Hulu original. The star played Danny's little brother Richie Castellano on The Mindy Project. He's also appeared in a number of films, including The Internship, The Darkest Hour, The Ides of March, The Social Network, and Agora. Additionally, he'll be appearing in the biographical dramedy Hippie Hippie Shake.
As Nick, Minghella plays opposite Moss as Offred's potential love interest. Being a Guardian, Nick is a low-level officer who is assigned to the Commander's home to do menial tasks like gardening and acting as the family's chauffeur. Since Offred is supposed to bear the children of the Commander, a relationship between Nick and Offred is, of course, forbidden, though that doesn't mean it won't happen.
Of course, Nick and Offred's relationship comes with complications — their biggest struggle being if they can truly trust each other. In the trailer for the series, something called "The Eyes" are briefly mentioned. In the novel by Margaret Atwood which the show is based upon, the Eyes are Gilead's secret police, and as noted in the trailer, it's suggested that someone in Offred's home could be working for the Eyes. Could it be Nick? Hopefully not, but fans will just have to watch the show to find out the truth. For now though, let's hope Nick is on Offred's side because if he's not, that could have dire consequences for Offred.
Besides Nick, there are a few others who make Offred's life as a Handmaid a little less awful. There's her friend Moira (played by Orange Is the New Black star, Samira Wiley) as well as Ofglen (played by Gilmore Girls alum, Alexis Bledel), another Handmaid who warns Offred that there's an Eye in her house.
You can meet Offred, along with her allies and enemies, by watching The Handmaid's Tale. The first three episodes are available for streaming on Hulu starting April 26.