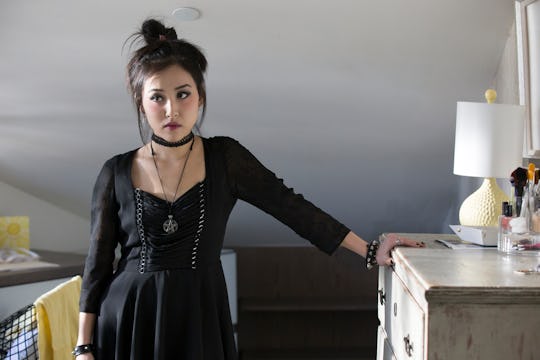 Paul Sarkis/Hulu
Nico Minoru From 'Runaways' Is A Force To Be Reckoned With
Marvel has taken over movie theaters and recent years with franchises like Avengers and X-Men. Not only that, but it's taken over traditional TV as well with shows like Agents of S.H.I.E.L.D. and Legion. Previously, Netflix has been home to many Marvel series as well, such as Jessica Jones. Now, Hulu's taking the reins with its latest series, Marvel's Runaways. The cast features a group of Los Angeles teenagers and the show will follow the comic book series. But who plays Nico Minoru on Runaways? Lyrica Okano has already praised the show's diversity.
While Runaways will be Okano's first major role, this is not her first foray into acting. As of now, most of Okano's filmography is made up of shorts. Starting in 2007, she appeared in Moca and subsequently The Art of Suicide two years later. Her television work began with an appearance in Unforgettable back in 2014 with an episode titled "Reunion." The following year, she scored a two episode arc on the Showtime series The Affair. Up until now, though, the 23-year-old actress did not have a starring or really a recurring role in a TV show. Prior to acting, Okano was a lyrical gymnast with Olympic ambitions. According to Hulu's press release, she also has a black belt in karate and practices kickboxing — so she seems as badass as her character.
Who is Okano's character, Nico, in Runaways though? Hulu's bio on the character says that she's a 16-year-old who never got passed a tragic loss in her family. The series begins with a new traumatic event that affects her and her friends. While the others are focused on the present, Nico can't help but think about the past. In an interview with The Hollywood Reporter, executive producer Josh Schwartz (yes, the guy behind The O.C. and Gossip Girl) talked about Runaways and Nico. "She's the Wiccan goth girl," Schwartz explained. "She keeps everybody at arm's length, but is hiding a very big heart. She doesn't say much when we meet her."
Nico is the daughter of business tycoons Tina and Robert Minoru. The family deals with their own trauma in the series (which I assume viewers will learn about as the season goes on). Okano herself also talked about Nico with The Hollywood Reporter. She tries to push her friends away even though she's incredibly vulnerable. Okano said Nico reminds her of herself when she was a teenager. "I think it's so important to show that characters like Nico exist," Okano said. "She's a Wiccan, and I think it's rare we imagine a Wiccan to be Asian-American."
In another interview with The Hollywood Reporter, Okano went on to say that she relates to the cast as a whole. "I really related to each and every one of these teenagers," she said. She also praised Marvel and its portrayal of Asian-Americans, too: "I never had a superhero to look up to whose Asian American and also so layered and complicated — not just my character, but everyone else's characters are layered so beautifully like that as well." Of course, Okano would rather see a plethora of diversity in the industry, but she's proud to be a part of one of the only series to show a character like hers.
"It sucks to say that we're one of the only Marvel TV shows showcasing such a diverse group of teenagers to tell so many different stories, but we are," she said. I'm excited to see Okano in her first starring role. It seems that Nico will go through intense, emotional scenes, and I can already tell Okano will rock it. Marvel's Runaways may be her first starring role, but I can bet it won't be her last.
Check out Romper's new video series, Romper's Doula Diaries:
Watch full episodes of Romper's Doula Diaries on Facebook Watch.