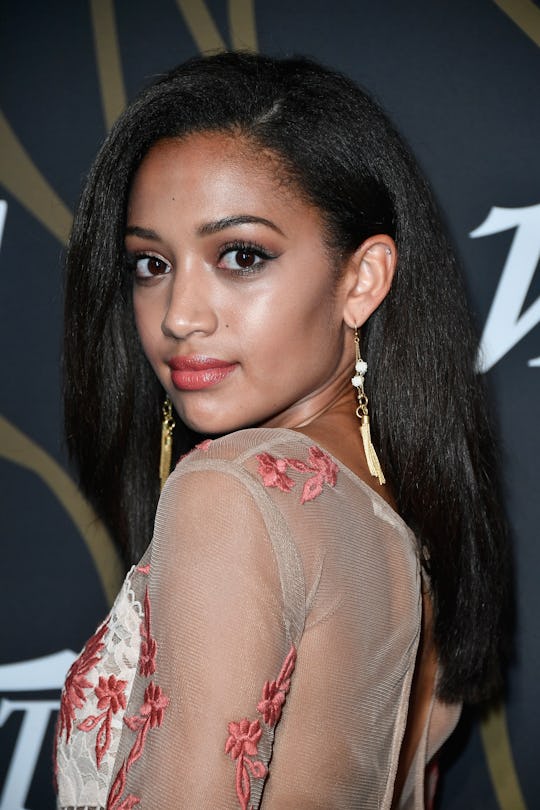 Frazer Harrison/Getty Images Entertainment/Getty Images
A New '13 Reasons Why' Character Is Heading To Liberty High
An all-new season of 13 Reasons Why is here and the popular and controversial show has added a number of new characters for its sophomore season. One of the newbies is Nina, a track star who has a big secret, which will come into play during Season 2. So who plays Nina on 13 Reasons Why? Samantha Logan is signing up to attend Liberty High.
Logan is currently making a name for herself in the TV biz. She was first credited as playing a small role in Gossip Girl back in 2009, but since then she's gotten big roles on 666 Park Avenue and the soap opera General Hospital. After leaving the soap, Logan went on to have recurring roles on Melissa & Joey, Teen Wolf, and The Fosters. Around the same time she also made it to the big screen as Heather in Alexander and the Terrible, Horrible, No Good, Very Bad Day.
In addition to the major film, Logan has also done a number of TV movies, including Studio City and Members Only. She also starred in the TV series Junior and following 13 Reasons Why, she'll be starring in the show, All American, which just got a series order from The CW. Logan additionally starred in the horror film, Polaroid, and you can next see her on the big screen in The Empty Man.
When she's not busy advancing her career, Logan can be found having a good time with her boyfriend and Teen Wolf costar Dylan Sprayberry. It's hard to say when exactly the pair started dating, but based on their Instagram accounts, they've been together since at least November of last year. They are serious couple goals with their cute posts, especially around the holidays. There's also incredibly supportive of each other, and Sprayberry even attended the 13 Reasons Why Season 2 wrap party with Logan.
Besides having the cutest boyfriend, Logan is also a strong advocate for gun safety and women's rights. Like many celebs she also loves to travel and her photos on Instagram are definitely envy-inducing. She's been to Trinidad and Tobago, Poland, Indonesia, and more. Logan also makes her way around the U.S. stopping at Baltimore, various national parks, and having a great time at Coachella. Other than that, it looks Logan is living her best life right now and she looks wonderful doing so. It'll be great to see her in the new season of 13 Reason Why and to find out what's going on with her character, Nina, and what role she'll play with the characters fans have already come to know.
Not much is really known about Nina yet, but perhaps the secret she's keeping will have something to do with the upcoming court case on the series. Although Hannah's parents are suing the school, as was seen in the first season, students are being asked to testify about what they know and what they saw as well. While Nina wasn't mentioned in any of Hannah's tapes, maybe she's connected to Hannah in some other way. Or perhaps she's another one of Bryce's victims, though hopefully, for her sake, that's not the case.
Additionally, since the series has now gone beyond its source material (the young adult bestselling novel of the same name), it appears Nina wasn't in the book either, so she's a complete mystery. However, that makes her addition to the show even more exciting. Unlike the first season, fans really don't know what to expect in Season 2 and anything could happen, adding more drama and surprises to the series. So no matter how Nina factors into the story, it'll certainly be interesting.
If you or someone you know are experiencing suicidal thoughts, call 911, or call the National Suicide Prevention Hotline at 1-800-273-8255.