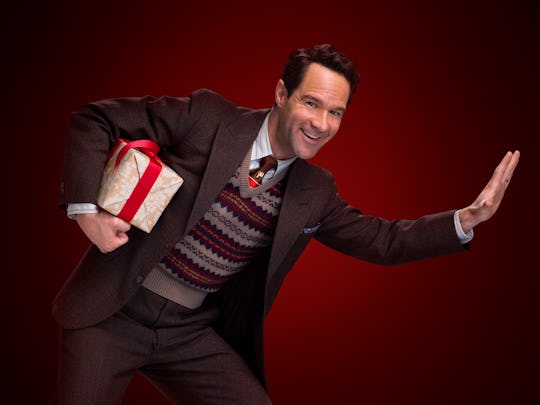 Tommy Garcia/FOX
Old Man Parker In 'A Christmas Story Live!' Is A TV Veteran
FOX's live production of A Christmas Story boasts household names like Matthew Broderick and Maya Rudolph playing the narrator and Ralphie's mom, respectfully. But who plays Old Man Parker on A Christmas Story Live!? Chris Diamantopoulos isn't quite the household name (yet), but he also has an impressive resumé. He'll have to hold his own in the production alongside Broderick, Rudolph, as well as Jane Krakowski and Ken Jeong. Even though viewers may not know Diamantopoulos' name (or know how to pronounce it — I certainly don't), there's a chance they may recognize his face while they're seeing him as Old Man Parker (aka Ralphie's father).
What other roles has Diamantopoulos played? He's appeared in American TV shows since the early 2000s, with appearances in hits like Frasier and Nip/Tuck. Since then he's guest starred in a numerous amount of shows, and landed big roles in animated series like Family Guy and Bojack Horseman. Despite all these television credits, though, Diamantopoulos actually began his career on the stage. He started performing in national tours in the United States when he was 18, and made his Broadway debut as Marius in Les Misérables. Prior to this year, his last time on Broadway was in The Full Monty. According to Deadline, Diamantopoulos recently appeared in the Broadway musical Waitress opposite Sara Bareilles. He played Jenna's love interest (and gynecologist), Dr. Pomatter.
A Christmas Story Live will not be the first time Diamantopoulos and Rudolph will appear on screen together. He had a recurring role in the series Up All Night, which Rudolph starred in. She played Ava, a talk show host opposite Christina Applegate as her best friend, Reagan. Diamantopoulos played Julian on Up All Night, Rudolph's on again/off again love interest. Another starring role he's had is Mickey in the recent animated series, Mickey Mouse. In 2014, he was actually nominated for an Emmy for his voice-over performance.
What viewers may know Diamantopoulos from the most, though, is Good Girls Revolt. For a refresher, the show was an Amazon streaming original about female employees of a newspaper in the 1960s (spoiler alert: it wasn't a good time). Diamantopoulos played Finn Woodhouse on Good Girls Revolt, one of the main characters in the series. The show was controversially canceled in 2016, but there's rumors that Good Girls Revolt could return for a second season; since Diamantopoulos was one of the stars, perhaps he would return as well.
It's probably Diamantopoulos' Broadway work that prepared him for A Christmas Story the most. What's interesting is that he has starred in musicals on the stage before, but none of his television work thus far has music. His appearances in shows like Waitress as well as his voice-over work says to me that he has the vocal chops to sing live on television. I'm not sure if his character, Old Man Parker, will actually sing but given Diamantopoulos' talents, I wouldn't be surprised.
Diamantopoulos' filmography runs the gamut; who is his latest role, Old Man Parker? He's Ralphie's father, so not quite the protagonist but he plays a major part in the original film. The Old Man famously wins a hideous lamp, so I'm excited to see how that will be portrayed in the live version. He's also pretty frustrated about the broken furnace in their home. Will Diamantopoulos sing a song about a busted furnace? Not likely, but I'm not going to write it off just yet. I can't wait to see how A Christmas Story Live will come together, and especially how Diamantopoulos will portray his pivotal role.
Check out Romper's new video series, Romper's Doula Diaries:
Watch full episodes of Romper's Doula Diaries on Facebook Watch.