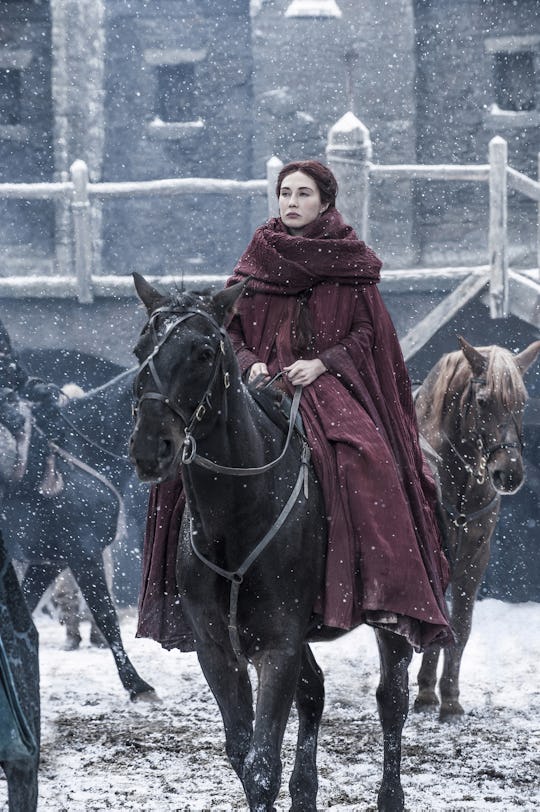 Helen Sloan/HBO
Who Plays Old Melisandre On 'Game Of Thrones'? It's Not Just One Person
We always knew Melisandre was magical on Game of Thrones, so her final scene on the Season 6 premiere shouldn't be that shocking, but alas, there I was, screaming at my television as Melisandre transformed into an old woman on the Game of Thrones premiere. It wasn't a shock because of the appearance of the older woman's body — unlike some unnecessary Internet hate the twist got — as much as it was just a surprise that Melisandre turned into an "ancient" woman, as Entertainment Weekly put it. So who plays the old version of Melisandre on Game of Thrones? It's actually a unique mix of two women.
During the scene in question, Melisandre disrobes, takes off her necklace — it's important to the plot, we just don't know in what way yet — and transforms into an old woman that slightly resembles her, but looks much older. There have been hints that Melisandre was older than she appeared — Carice van Houten has said that "she's way over 100 years" — but we've never known that that is what was behind the Melisandre we knew. (Also, we have seen Melisandre nude before, and we did not see her in her older form, so whether the necklace she wears has something to do with the glamor or not is to be determined.)
Entertainment Weekly reported on the making of old Melisandre, and it's actually much more involved than one would think. (Then again, this is Game of Thrones — nothing is easy or straight forward, just the way we like it.) According to the site, "[Carice] van Houten wore prosthetic makeup for her face and hair, while her body was performed by an older woman." Casting information on the actor playing the body double was not available.
Game of Thrones director Jeremy Podeswa told Entertainment Weekly about the creation of the older Melisandre:
The idea is there's an indefinite indeterminate quality that she could be ancient. We were limited by choosing to use a real person rather than a complete CG creation. Because what does a 400-year-old person look like? We don't know. So if you try to create that, then you're creating something that looks beyond our known reality. Here you feel like she's very old without putting a number on it.
It is certainly just one more way Game of Thrones has shocked us over the years. The older Melisandre is bound to play a bigger role in the show — and potentially Jon Snow's life? — but we'll have to wait and see about just how that will work (read: please bring him back to life Melisandre).