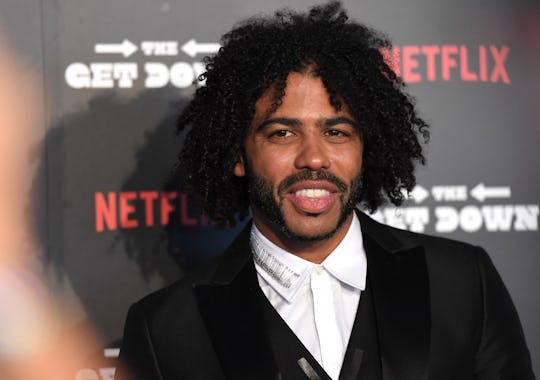 ANGELA WEISS/AFP/Getty Images
Who Plays Older Zeke on 'The Get Down'? Daveed Diggs Is Moving On From 'Hamilton'
(Warning: This post contains spoilers from Episode 1.) Much like its other recent smash-hit Stranger Things, Netflix took a very particular approach to casting its newest show, the musical drama series The Get Down. Specifically, the adult roles are played by recognizable and acclaimed actors, while many of the younger (and more central) roles – like aspiring disco singer Mylene and the clever Zeke – are played by unknowns and newcomers. But there is one familiar face that you may be surprised to see among the supporting cast – Daveed Diggs, the actor who plays older Zeke on The Get Down, is a star from one of Broadway's most renowned musicals of all time.
In the first season of The Get Down, Diggs plays an adult version of the lead character, Ezekiel "Books" Figuero. The first episode actually opens on this adult version of Zeke, on stage for a seemingly sold-out show at Madison Square Garden in 1996. By this point, he appears to be a very successful rapper, and the actual series is set up as a "flashback" from this 1996 Zeke's perspective – Zeke narrates the events (not everything, mostly just intros and conclusions) by rapping in voiceovers, musically telling the story of his life to the packed crowd at MSG. According to Rolling Stone, the raps were penned by multi-platinum rapper Nas, who also executive-produced the show.
Of course, Diggs is best known for his award-winning role in Hamilton, the smash hit musical from the mind of actual-genius Lin-Manuel Miranda. Diggs originated the roles of Marquis de Lafayette and Thomas Jefferson in the 2015 show, winning both a Grammy Award for Best Musical Theater Album (shared with the rest of the cast) and a Tony Award for Best Featured Actor in a Musical in 2016 for his performances.
But Diggs has hung up his Hamilton hat, departing the musical with a final performance on July 15, shortly after the final performances of his fellow cast members Lin-Manuel Miranda, Leslie Odom Jr. and Phillipa Soo on July 9.
Post-Hamilton and beyond his brief appearances in The Get Down, Diggs has a stacked plate of movie and TV projects ready to go in the coming year. He will have a significant Season 3 arc on the ABC hit comedy Black-ish as Rainbow Johnson's brother Johan. He is also set to have a starring role in the upcoming movie Wonder, based on the novel by R.J. Palacio – in it, Diggs will play an English teacher to Jacob Tremblay's lead character, a young boy with "significant facial differences." Finally, he'll also be appearing in Andy Samberg and Murray Miller's newest HBO mockumentary series, Tour de Pharmacy, which will take on the use of performance-enhancing drugs in the world of professional cycling.
It was definitely a pleasant surprise to see Diggs in his brief appearances as the adult version of Zeke. I hope we get a lot more of him – and of future Zeke's life – in the second half of Season 1, set to debut on Netflix sometime in 2017!