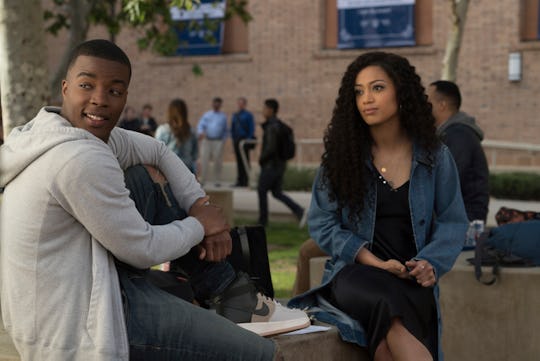 Jesse Giddings/The CW
Here's Where You Know Olivia On 'All American' From
The CW's new football drama adapts the real-life story of Spencer Paysinger into a teen soap that exists somewhere on the spectrum between Friday Night Lights and The OC. That means it's imported a bevy of heartthrobs to keep the audience's attention, among them the fictional Spencer's new friends. So viewers may be wondering: who plays Olivia on All American? If you're fluent in teen, then she'll be a familiar face.
Samantha Logan is fresh off a stint on Season 2 of 13 Reasons Why, where she played Nina Jones, a member of the track team and fellow sexual assault survivor who befriends Jessica. Together, the two characters helped the show unpack the meaningful differences for white women and black women in navigating the fallout of a sexual assault, and Logan made use of her platform during press for the show to talk about the issues she was portraying.
Prior to 13 Reasons Why, she played Tia Stephens on The Fosters, did a few episodes of Teen Wolf, starred on 666 Park Avenue, and even cut her teeth as a soap opera actress on General Hospital. She also stays pretty close friends with her co-stars across projects, from the looks of her Instagram account, and has been romantically linked to her Teen Wolf co-star Dylan Sprayberry, according to Seventeen. Needless to say, her impressive body of work makes her a perfect fit to play All American's version of Marissa Cooper.
Logan plays Olivia, the daughter of Beverly Hills High School football coach Billy Baker. In the pilot, we learn she has ~secrets~, and soon befriends Spencer James, the football star at the heart of the show. Spencer plays for Crenshaw High School in the pilot, but Coach Baker, who also grew up in South Central LA, knows the dangers and road blocks inner city schools throw in the way of talented players like Spencer. Coach Baker scouts Spencer at a game where there just so happens to be a drive-by shooting, and manages to recruit him to play for Beverly Hills High instead. Obviously, this comes with a generous helping of culture shock, since Beverly Hills High School is predominantly white and highly affluent, which poses a whole new set of challenges for Spencer.
Things get even more complicated when Spencer moves into Coach Baker's house after his school transfer is threatened. And living in Coach Baker's house with his wife and their kids doesn't exactly make things easier on Spencer. While Jordan, Olivia's older brother, tries his best to assimilate, Olivia, who is fresh out of rehab, can't ignore the many ways in which she feels like an outsider. In other words, she and Spencer are a match made in OTP heaven.
As for the actress herself, she clearly is proud to be a part of the show. "It's one of those special projects that I feel so lucky to be a part of," Logan told Essence of being on the show in an interview back in June. "It's uplifting, powerful and emotional, so be on the lookout."
All American airs Wednesday nights on The CW.