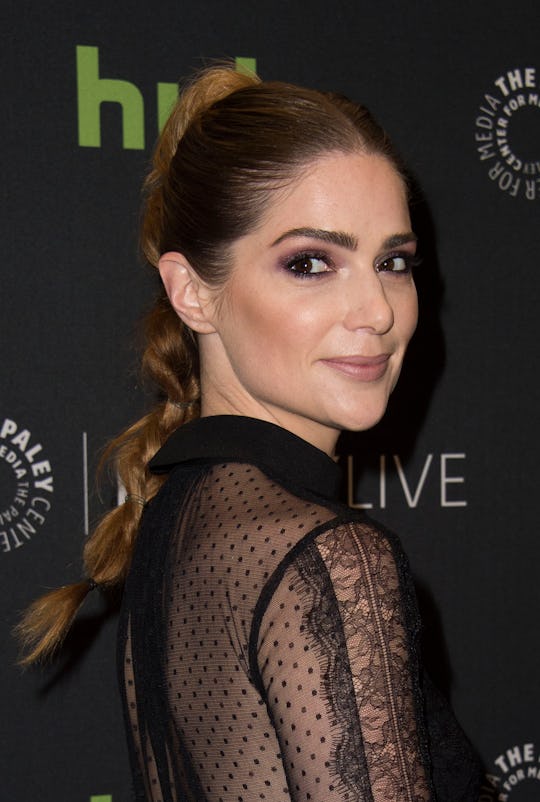 VALERIE MACON/AFP/Getty Images
Who Plays Olivia On 'This Is Us'? Janet Montgomery Stars In A Wicked Role
Olivia isn't always an easy character to sympathize with on This Is Us. She started off as merely Kevin's much more experienced co-star in the play he was cast in, but quickly became more than that. There was something of a manic pixie dream girl in Olivia, who took Kevin on strange little adventures intended to unlock his acting abilities, but also pushed him away even as she pulled him closer. Olivia is a self-sabotage extraordinaire and she's plagued by her own demons, which make her unwilling to give in to the connection she feels to Kevin. But who is the actress behind the actress? Who plays Olivia on This Is Us?
Olivia is played by Janet Montgomery, who is perhaps best known for her portrayal of the witch Mary Sibley on Salem. However, Salem and This Is Us aren't the only TV credits to her name; Montgomery has been working steadily in television since snagging a minor role on Skins in 2008. She's appeared in everything from Entourage to Dancing on the Edge to Black Mirror, collecting roles on both sides of the pond. But Montgomery has also been building a career on the big screen as well, which includes nabbing supporting parts in Black Swan and Our Idiot Brother.
Though Montgomery initially trained as a dancer, she decided to pursue acting instead. "I had a strange sort of introduction to acting," Montgomery said in an interview with the BBC, adding:
I trained as a dancer at the Stella Mann Dance College in Bedford, England, where I studied everything from ballet and tap to jazz. While I was there, I realized that I probably didn't want to do it professionally. After leaving, I couldn't get an acting agent because I hadn't been to drama school. But then I produced a play with my friend Gethin Anthony, who is now in Game of Thrones. And I was lucky enough to get an agent through that.
Her dance background may have helped Montgomery when it came to getting her role in Black Swan, but not every part has a connection to her real life. She's obviously not a witch like she is on Salem (well, probably not), but Olivia has proven to be a difficult role for her to tackle at times. "I have a very British politeness to me, where I never want to hurt anyone's feelings," she recently told Us Weekly. "It's quite difficult for me, playing Olivia, it makes my skin crawl." Olivia may be kind of a brat now, but the time she spends with the Pearson family will hopefully inspire her to let her guard down a little.
Montgomery's two current TV roles also have something unexpected in common: her This Is Us co-star Mandy Moore and Salem love interest Shane West starred together in the eternal classic A Walk to Remember. That means Olivia has hooked up with her boyfriend's mom's widower — as if that Pearson Thanksgiving dinner wasn't awkward enough already.