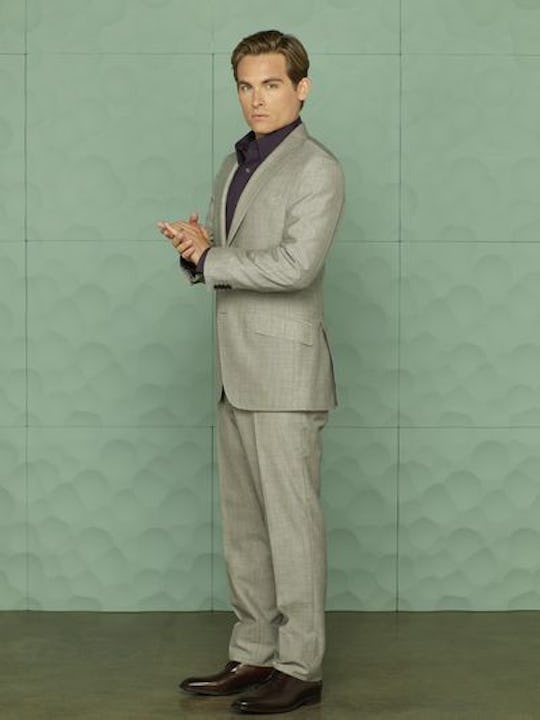 Bob D'Amico/ABC
Who Plays Oscar Keaton On 'Notorious'? You've Seen Him Before
While we wait for Scandal to return, ABC has given us a new drama that's just as twisted. Notorious follows executive producer, Julia, and high profile attorney, Jake, as they try to control the narrative surrounding Jake's biggest clients and Julia's top news stories. The series started off with a bang with Jake's client, Oscar Keaton, being charged with a hit and run, and then it being later revealed that it was actually his wife, Sarah, who by the end of the episode ends up dead. If you somehow weren't completely sucked in by the plot you may have been wondering who plays Oscar Keaton on Notorious.
Kevin Zegers plays the role of the alcoholic tech millionaire and he's no stranger to the small screen or the big screen. Prior to Notorious, Zegers starred in the FOX mini series, Gracepoint, and the historical drama, Titanic: Blood and Steel. Before that Zegers appeared in Smallville, Titans, and Gossip Girl where he played the bad boy, Damian Daalgard. If none of those roles ring a bell you may remember Zeger when he was younger. In the '90s Zeger had a recurring role in the show Traders and appeared in the episode of The X-Files. His biggest role in the '90s, however, was playing Josh Framm in the Air Bud movies.
Besides being on TV, Zeger is well known for his film roles, Air Bud being his first major role. Zeger starred in four of the franchise films, including the original film, Air Bud: Golden Receiver, Air Bud 3: World Pup, and Air Bud: Seventh Inning Fetch. From there Zeger appeared in various other feature films including Dawn of the Dead, Some Things That Stay, Transamerica, Zoom, and It's a Boy Girl Thing, amongst so many others. More recently Zeger played the role of Alec in the film adaptation of Cassandra Clare's Mortal Instruments book series and starred in the 2015 thriller, The Curse of Downers Grove.
Zeger's résumé is stacked and Notorious is just another excellent addition. It's unclear how long Zeger will be sticking around on the show but for now we'll definitely be seeing a lot of him as Oscar seems to have gotten himself into even more trouble.
You can see Zeger and the rest of the amazing cast of Notorious on Thursdays at 9 p.m. EST on ABC.