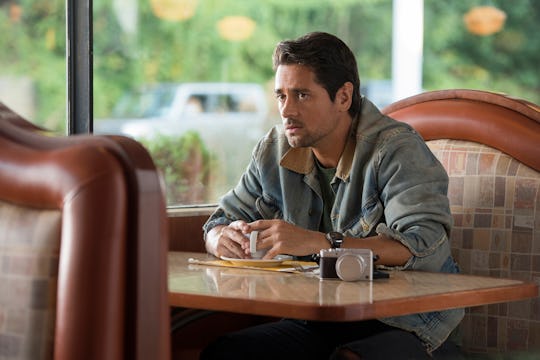 David Giesbrecht/Netflix
Oscar May Look Very Familiar To Some 'Jessica Jones' Fans
Warning: this post contains spoilers from Season 2 Episode 1. If you're a Jessica Jones fan, you know very well that she's not exactly a people person. Besides a select few people, this vigilante pretty dislikes everyone, especially her neighbors. However, in Season 2 there's a new landlord in Jessica's building named Oscar, and it looks like there could be something brewing between them. So who plays Oscar on Jessica Jones? J.R. Ramierez snagged the role.
Ramierez is not new to the small screen, so you may be familiar with his work. His first big role was as Eddie Jr. on the drama series, Hacienda Heights. He then went on to have a short role on 24 before being cast in a recurring role on Tyler Perry's comedy series, House of Payne. Following his time on that series, he went on to have a number of small roles on various CW shows, including 90210, Emily Owens M.D., and Arrow, before he was cast in a lead role on Starz hit series' Power.
Unfortunately, Ramirez's character, Julio, met a dark fate at the end of the show's last season and he's since left the show. However, it's because he was off that show that he was able to join Jessica Jones as a series regular for Season 2. So it all worked out nicely and you should expect to see Oscar sticking around for a while.
Along with his work on the small screen, Ramirez has also appeared in a number of films as well. You may recognize him from I Will Follow, Drunk Wedding, or most recently, Sun Dogs. It doesn't look like Ramirez has anything lined up for after Jessica Jones, at least not yet, but that'll probably change in due time.
When Ramirez isn't working, he's enjoying life by traveling, working out, and hanging out with his friends, family, and dog. Specifically, he loves hanging out at the beach, especially in Florida where the majority of his family resides, and going golfing. And in case you were looking for more reasons to fall in love with Ramirez (did I mention he's incredibly attractive?), he's also an awesome uncle.
Editor's Note: The Instagram post has since been deleted.
Like many celebs, Ramirez also uses his platform to advocate for change, specifically for DREAMers, undocumented immigrants who were brought here when they were children. Ramirez himself is an immigrant who was born in Cuba, but was raised in Tampa, Florida. He also can't help but shout out his friends, and uses his Instagram to share throwback photos of the actors he's worked over the years and to promote their new work. It seems that Ramirez is just an all-around cool guy and most importantly, he's single.
Editor's Note: The Instagram post has since been deleted.
So far there isn't much known about his character, Oscar, on Jessica Jones. Besides being Jessica's landlord, he's a single dad to an adorable son and when he realized that Jessica has a super power, he didn't seem all that happy about it. After she lifted his fridge to help him move in (and because it was in her way), he gave her a side eye that seemed to indicate this will become a problem later. It also didn't help that when another person with abilities was killed by scaffolding, Jessica was there when it happened and Oscar, along with his son, saw it all.
That being said, I still think there's a chance for a romance, or at least a brief fling, to blossom between these two. Oscar seems like a good guy, and though Jessica is a bit rough around the edges, she's a good person too. Whether or not these two actually hook up, hopefully they'll at least become friends. Jessica could always use more of those in her life.