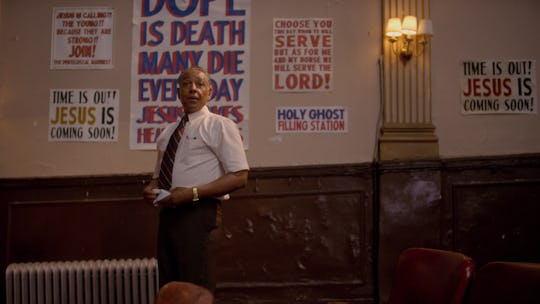 Netflix
Who Plays Pastor Ramon On 'The Get Down'? He's Been In Just About Everything
Though many of the performances in The Get Down come from actors who are just starting out, that isn't true for every character. Not everyone on the show is a newbie; in fact, there are a fair few experienced, regularly fantastic actors in the cast, usually in the roles of older, more experienced characters. Pastor Ramon is a important part of leading lady Mylene Cruz's (Herizen F. Guardiola) story because as her strict father he's a big obstacle for her. It could easily become a thankless role in the wrong hands, so it's a good thing the right actor was cast in the part. But who plays Pastor Ramon on The Get Down?
He's played by Giancarlo Esposito, who is probably a familiar face even if you don't recognize his name right away. He's been in everything, working steadily in film and television for the last thirty years or so. More recently, he appeared on Breaking Bad and Once Upon A Time, though that's only a fraction of his filmography. On The Get Down, Pastor Ramon is a controlling preacher with a wildly passionate congregation who wants to keep his daughter Mylene on the straight and narrow – which means keeping her away from that devilish disco music she loves so much.
While Esposito's performance makes it clear Ramon loves Mylene in his own way, it's also obvious that he doesn't understand anything about her or what she needs. His inability to compromise or see beyond his own perspective eventually leads to a violent altercation and further rebellion from Mylene; it drives a wedge between father and daughter that results in him kicking her out of the house. Mylene finds herself under the protection of her politically-minded uncle Francisco 'Papa Fuerte' Cruz (Jimmy Smits), who took a very different path in life than his preacher brother.
Outside of The Get Down, Esposito has been as busy as ever. He lent his voice to the film that opened the 2016 Olympics and he has several films set to release in the next year or so, as well as another television show. You can catch him in the upcoming Stuck (a subway-set musical) and Rebel (a TV police drama centered on officers of color), as well as films Okja and The Long Home.
But until those projects make their way to the public, there are twelve episode of The Get Down to enjoy.