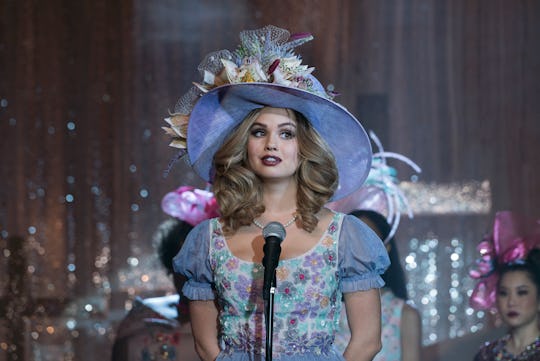 Tina Rowden/Netflix
Debby Ryan Stars In Controversial Netflix Series 'Insatiable'
Insatiable is possibly Netflix's most controversial series to date and most people haven't even seen it yet. The series follows the story of Patty, an overweight teen who loses weight after having her jaw wired shut — and returns to her school to get revenge on those who wronged her. With so much backlash being directed at the show it's not surprising that many people are wondering who plays Patty on Insatiable? Debby Ryan scored the role.
This isn't the first time Ryan has starred in a TV show. Previously, she played the aspiring musician turned New York City nanny in the hit Disney Channel series Jessie. Prior to that, she had a starring role on The Suite Life on Deck as Bailey Pickett. She's also had smaller roles on shows like Private Practice, Zeke and Luther, The Glades, Girl Meets World, Daytime Divas, and The Mysteries of Laura. Ryan also starred in the YouTube Red series, Sing It!, as Holli.
You may also recognize Ryan from her parts in films. Most recently she played the mean girl, Jennifer, in Life of the Party and Jolene in Every Day. Ryan also starred in Rip Tide, and had a small role in Cover Versions, which starred Taylor Swift's younger brother, Austin Swift. You can also find Ryan in the movie Grace, which is set to come out sometime this year.
Since leaving Disney Channel, Insatiable was set to be Ryan's biggest project to date. But it will be interesting to see if the backlash surrounding the show hurts it or propels it even further into the limelight. Criticism of the series began soon after the trailer for the show dropped. Many accused the show of fat shaming, because of the idea that Ryan had to become skinny in order to be popular.
In a statement posted on Instagram, Ryan herself argued against these claims, defending the series, and asking people not to judge it before watching.
"As someone who cares deeply about the way our bodies, especially women's, are shamed and policed in society I was so excited to work on Insatiable because it's a show that addresses and confronts those ideas through satire," she wrote. "Satire is a way to poke fun at the hardest things, bring darkness into the light, and enter difficult conversations...Over the last few days I've seen how many voices are protective and fiercely outspoken about the themes that came into play in this story. I'm grateful for that, and comforted by it, because I want those stories told right to."
Ryan went on to say, "I hope fans will wait and watch the show before passing judgment. If you go for this ride, I think you'll recognize both yourself and the things that make you mad about our fractured and beauty-obsessed culture."
Despite Ryan's statement, people's aversion to the show hasn't lessened. A Change.org petition to stop the show from being released has received over 225,000 signatures and counting, though Netflix has already made it clear they're still going to release the series. In addition, the early reviews of the series seem to indicate that Ryan's plea to wait and see the show before judging may still not change people's thoughts on the show.
BuzzFeed said Insatiable's message is that "thin people's stories are worth telling, while fat people are relegated to nightmarish flashbacks and cheap jokes." Fast Company said, "...the show offers an irresponsible, dangerous depiction of [Patty's] too-easy physical transformation, the seamless results of it, and their miraculous sustainability." There are many more reviews just like these and it seems that despite the cast and showrunners' claims, the show still isn't telling the empowering story they want it to.
You can decide for yourself by watching Insatiable, which is now streaming on Netflix.