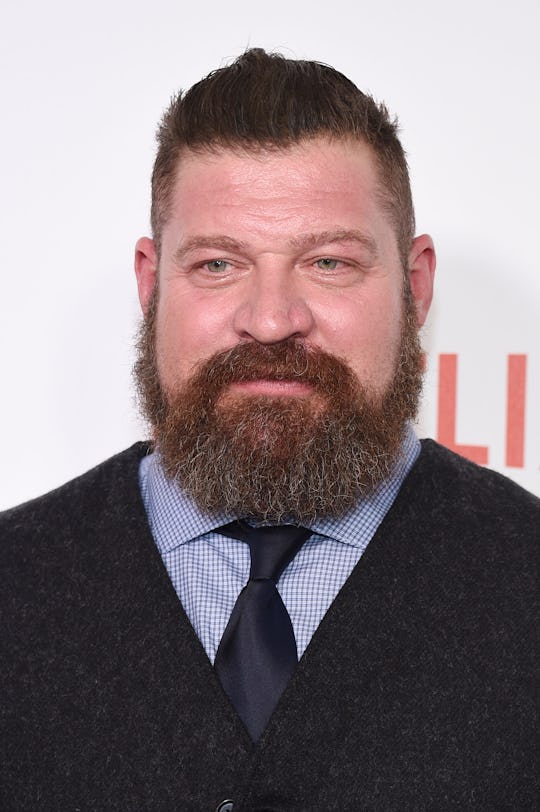 Dimitrios Kambouris/Getty Images Entertainment/Getty Images
Who Plays Piscatella On 'Orange Is The New Black'? The New Guard Is Making His Mark
Season 4 of Orange Is the New Black has us not only hoping to see some familiar faces return, it's simultaneously surprising us with additional cast members. While a high-profile cooking-show-star-turned-inmate garnished a lot of attention, many viewers were asking themselves, "Who plays Piscatella on Orange Is the New Black?" because, well, the new guard is intense and complicated and someone you kind of hate but don't necessarily mind having around.
Litchfield's newest lead guard, Desi Piscatella, is played by Brad William Henke, who you've probably seen without actually seeing, before. He has appeared on a plethora of television shows since the late '90s, with small spots on everything from ER, Shameless, Cold Case, Bones, Law & Order and Castle to CSI: Crime Scene Investigation, Lost, Dexter and Grimm. While these were simple guest star roles, Henke has also had some success on the big screen. He was "Leo" in the 2005 film Must Love Dogs and co-starred alongside Maggie Gyllenhaal in 2006's Sherrybaby. He also had small roles in 2014's Fury, starring Brad Pitt, and 2013's Pacific Rim, starring Idris Elba and Charlie Hunnman. It's safe to say that Henke has had his fair share of relative stardom, but there's no denying that his role as Litchfield's newest, most unforgiving yet somewhat fair guard might be the big break he's been looking for.
As Season 4 begins, it's difficult to formulate any feelings concerning Piscatella, other than one of disgust. He's a hard-ass, who isn't seemingly kind or understanding or, well, humane to the prisoners he is tasked with guarding. He has a no-nonsense attitude about him, and has a few heated exchanges with the prisoners. He refuses to allow Red and the kitchen crew to cook food for the prisoners after they returned from their short-lived flee to freedom by way of an open fence and a not-so-clean lake. He cuts prisoners off when they speak and gets in their face when asking them questions. He's, well, intense. However, as the season progresses you begin to realize that while he takes his job extremely seriously and goes by-the-books, without every deviating for the many special circumstances that arrive, it's clear that he is far better than the rapists and the drug dealers that used to (and still do) patrol Litchfield.
In fact, during a conversation with Piper in which she essentially sells out Maria and the Domincans for attempting to establish their own prison panty operation, we see a different side of Piscatella that furthers the complexity of his character. Piper plays to his intensity, describing "a prison gang in its infancy" and prompting Piscatella to do random searches of the Latina population of Litchfield. Piscatella thanks Piper for her intel, then promptly tells her that he has had two beards since the 10th grade; his, and the beard he took to prom. "Yeah, I like dudes," he says. "I will never find you adorable. Keep that in mind." The moment shows how low Piper will go and how serious Piscatella will always be, but for (arguably) the right reasons. In the end, he just wants to do his job and maybe it is that specific, overall goal that blinds him to the complexities of said job, and the women he is supposed to protect.
Henke is married to actress Katelin Chesna and, in October of 2006, announced that the couple had plans to adopt a 14-year-old foster child. Little is known about his personal life, which seems to be a calculated decision on Henke's part (and one I definitely respect). So, for now, I will hope that viewers continue to see more of Piscatella on Orange Is The New Black because, well, anyone beats Pornstache.