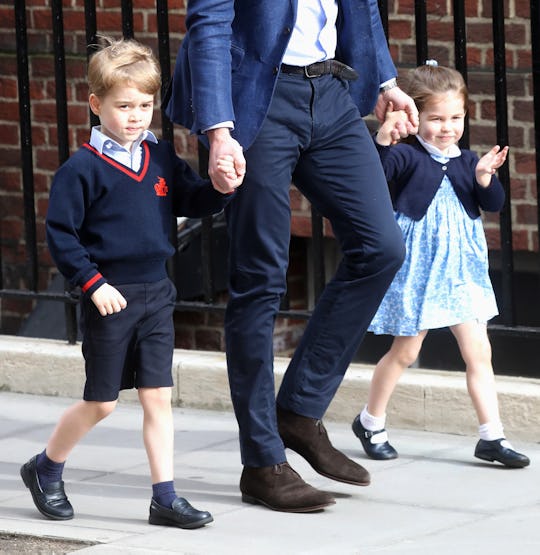 Chris Jackson/Getty Images Entertainment/Getty Images
The Actor Playing Prince George In 'A Royal Romance' Is Perfect For The Part
While everyone's incredibly excited about the royal wedding, and rightly so, many are also looking forward to Lifetime's latest crowning achievement (pun intended). The new movie, Harry & Meghan: A Royal Romance, tells the love story of Prince Harry and Meghan Markle. But while it specifically chronicles Prince Harry and Markle's relationship, it'll also feature the other royals, including the Duke and Duchess of Cambridge's two eldest children. So who plays Prince George on Harry & Meghan: A Royal Romance, and does he look like his real-life counterpart?
Newcomer Preston Karwat will play the young prince. Because Karwat is so young, there's not much information to be found on him in regards to his career (which is completely understandable). He doesn't even have an IMDB page yet. In fact, this appears to be his first acting role, and based on looks alone he does seem to be perfectly suited to portray Prince George. Truthfully, Lifetime did a great job with the whole cast, considering that the similarities between the ensemble and real-life royals are almost uncanny.
Because the movie will be showing the love story between Prince Harry and Markle, only Prince George and Princess Charlotte will be in the movie. Prince William and Kate Middleton's newest addition, Prince Louis, was born on April 13, which means he wasn't around yet when Prince Harry and Markle fell in love.
Although Prince William and his family will obviously be in the movie, the true focus will obviously be on Markle and Prince Harry. People have been quite enamored with the couple since rumors first spread that they were dating back in 2016. While there was reportedly some controversy over the fact that Markle is American, biracial, an actress, and was previously married, for the most part people genuinely seem to be in love with this couple. Thus, it wasn't all that surprising when Lifetime announced they'd be making a movie about the relationship. The network also did a movie about Prince William and Middleton's romance back in 2011, aptly called William & Kate.
Similar toWilliam & Kate, A Royal Romance was put together rather quickly, just in time for their actual wedding, which takes place on Saturday, May 19. According to Entertainment Weekly, the script was actually written in only two weeks. Scarlett Lacey, who co-wrote the script, revealed to the outlet that as soon as the engagement was announced, Lifetime immediately contacted her and she, along with Terrence Coli, quickly got to work.
From there, everything moved quite quickly. The actors who play Markle and Prince Harry — Parisa Fitz-Henly and Murray Fraser, respectively — were cast at the end of January and then Fraser only had a few days before filming began. That included having his hair and beard dyed to match Prince Harry's iconic ginger locks.
Even though the movie was put together hastily, you can be sure that plenty of people will be tuning in to see how this particular love story is portrayed. Fans of the royals can never get enough of these stories and as soon as the trailer for the movie was released in April, excitement for its grand debut began. Plus, it's the perfect way to prepare for the royal wedding, considering it's a little less than a week after the premiere of Harry & Meghan: A Royal Romance.
Whether you're obsessed with the royals or just want to learn more about this incredible love story is depicted on the small screen, definitely check out Harry & Meghan: A Royal Romance, which airs on Sunday, May 13 at 8 p.m. ET on Lifetime.