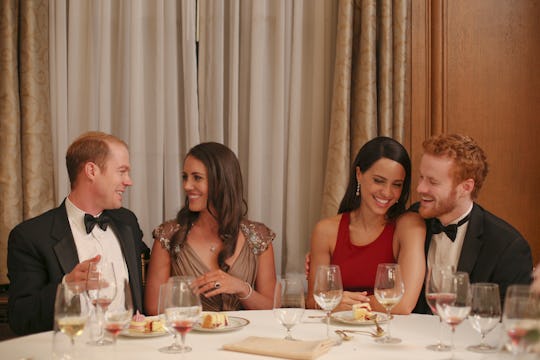 Courtesy of Lifetime
The Actor Playing Prince Harry On 'A Royal Romance' Will Make You Do A Double Take
The royal wedding is upon us, but if I'm being completely honest, it's the Lifetime movie about Prince Harry and Meghan Markle that has me the most excited. The TV movie recounts the romance between the former Suits star and the youngest prince, and the resemblance between the actors and their real-life counterparts is pretty uncanny. So who plays Prince Harry on Harry & Meghan: A Royal Romance? He almost has me fooled that he's the Prince of Wales himself.
The film, according to Lifetime, will cover everything "from the moment they met after being set up by friends, through their initial courtship when they were able to keep their romance under wraps, and ultimately the intense global media attention surrounding their relationship and Meghan's life as a divorced American actress." That's a lot to handle, but actor Murray Fraser is definitely up to the task.
Fraser is a 23-year-old Scottish actor who graduated from the London Academy of Music and Dramatic Art jut two years ago, according to The Sun. Since then, he's kept busy with acting gigs, though. According to the same outlet, Fraser currently stars in The Loch, a mini-series on ITV. On the show, he plays Jason Denny, a cop investigating the murder of a piano teacher. He's also in PBS' Victoria, in which he plays a Scottish downstairs staff member who accompanies the Queen on her travels. Between his television role and starring as Prince Harry, this likely won't be the last time we'll see him.
Casting Fraser was an interesting choice, since another actor, Richard Goulding, has played the prince in a handful of projects, including the current royal drama, The Windsors. Goulding has taken on the role so many time, in fact, that he actually gets mistaken for the young prince on the street, as reported by The Evening Standard. But for this Lifetime depiction of Harry and Markle's romance, they went with a new guy. And it seems to really work.
In all of the teasers for the movie, Fraser looks just like Prince Harry, and his co-star Parisa Fitz-Henley is a dead ringer for Meghan Markle. If the actual couple watch the movie, it will definitely be a little creepy. Sheesh, I'm kind of creeped out by how similar they look.
There's actually a good chance that Prince Harry and Markle will watch it. According to Vanity Fair, Kensington Palace has some issues with just how real the film gets.
Director Menhaj Huda told Vanity Fair that his wife's BFF has been dating the palace press secretary and that the office is "seriously worried about the sex scene" which shows the young couple in bed together. Co-screenwriter Scarlett Lacey, who is the daughter of Robert Lacey, a historical advisor on Netflix's The Crown added that the palace is "definitely aware of the film." "Let's put it that way," she added.
Markle was acting on television not so long ago, and actually, her name was still in casting databases when the producers were casting the film. By accident, Markle's name was actually submitted to play herself in the Lifetime movie, which would have been hilarious.
Executive producer Michele Weiss told Vanity Fair that they address Markle's acting career in the movie, especially the fact that she used to do Lifetime movies just like this one. He said he thinks she should watch it when it comes out:
We talk about how Meghan has done Lifetime movies, Meghan has done Hallmark movies, [other] movies, and TV. If I were her, I would watch it, just for the thrill factor. We admire the couple, so we hope [that] if they watch it, they think it's funny, it's sweet, and that we hit on the historical import of their relationship.
Hopefully, they will watch it and enjoy it as much as the rest of us. If not, Fraser should at least get some more movie roles from this gig. Just maybe not another royal one.