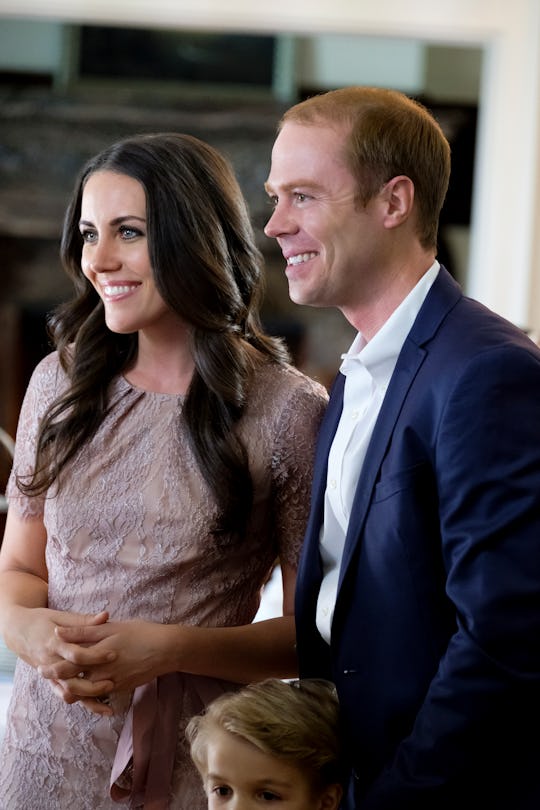 Courtesy of Lifetime
Here's Who's Playing Prince William In Lifetime's 'Harry & Meghan: A Royal Romance'
Prince William is likely one of the most famous men in the world. But now that his brother Prince Harry is engaged to American actress Meghan Markle, the attention on him and his family has sort of subsided. That being said, he has a pretty big role in the Lifetime movie about his brother's relationship and wedding, so you know the producers had to find someone just right. So who plays Prince William on Harry & Meghan: A Royal Romance?
Americans might not recognize him, but Australian actor Burgess Abernethy is mildly famous on the Gold Coast for his television appearances. According to his IMDB page, Abernathy has had small roles in H2O: Just Add Water (2006), Mirrors (2013), Quietus (2012), and Home and Away (2008). I know, I haven't heard of them either, but they're all apparently worth a watch.
This might be the most high profile thing Abernethy will have on his resume and he surely looks the part. Although his features don't scream "William," the hairline is right on point. And so are the actors who play his wife, Kate Middleton (played by Laura Mitchell), George (played by Preston Karwat), and little Charlotte, played by Briella Weintraub. The fake family looks super royal to me.
Abernethy's characters normally have a lot more in common with his real life. According to The Daily Mail, he is dating Caribe Heine, who played his on-screen girlfriend in H2O: Just Add Water. Onscreen, the duo was off and on, but in the real world, they're a dedicated item. Judging from his social media presence, they're still together and travel often.
While he was in Vancouver filming the A Royal Romance, he often posted pictures of himself out in the snow, making jokes about how awful the weather was in Canada compared to his hometown. You really can't blame him.
There are already some complaints circling around the interwebs about casting Abernethy as Prince William, given that Lifetime already did a movie about William and Kate back in 2011, though it was produced by Hallmark. Then, Camilla Luddington (who plays Jo on Grey's Anatomy) and Nico Evers-Swindell played William, although it had an entirely different theme than the upcoming Lifetime production. Back in 2011, Hallmark's SVP original programming Barbara Fisher told Deadline, "While biographical, the film is a love story with an inside look at the nuances of a modern monarchy."
For continuity's sake, though, some royal obsessives feel a little let down that the same actors didn't return to the small screen for A Royal Romance. There are some other issues people have with the portrayal of the royal family in the movie, too.
Not only is Abernethy not the same guy who played William back in 2011, George is wearing pants in the fake royal family portrait. In real life, he wears shorts, as per royal tradition. Also, the adorable little girl playing Charlotte looks a little too old. But really, that's nitpicking.
Given that Markle was an actress and could have essentially played herself in this film, I'm going to bet that she, Harry, and maybe even Will and Kate will plan a movie night and watch the film. Just for kicks, right? On Friday, Kensington Palace released a statement saying that Prince Harry and Markle will be postponing their honeymoon. There are apparently some formal engagements they have to attend, so the couple plans on waiting a bit after their May 19 wedding to really travel.
That means they'll have tons of time during their post-wedding staycation to hang with the real-life William and Kate and watch television. Hopefully, William likes how Abernethy portrays him.