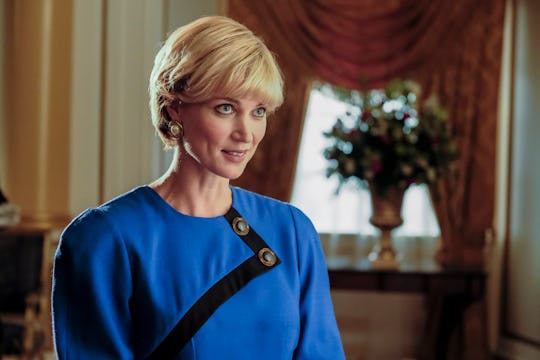 Lifetime
Princess Diana Will Be Included In Lifetime's 'Harry & Meghan: A Royal Romance'
Lifetime's upcoming project, Harry & Meghan: A Royal Romance may mostly be about Prince Harry and Meghan Markle's love story, however, some of the supporting characters are just as interesting. In fact, viewers are sure to be particularly interested in flashbacks centered around Prince Harry's iconic mother. So who plays Princess Diana on Harry & Meghan: A Royal Romance anyway and where can we see more of her? Because she's absolutely great. Hopefully Kensington Palace thinks so, too.
The beloved mother of Harry and Prince William is portrayed by Bonnie Soper, an actor from New Zealand. The 34-year-old seems to be just starting out in her acting career, but playing Princess Di is a huge deal. Hey, Markle herself started out in Lifetime and Hallmark movies, so who knows what can happen after this role?
According to her IMDB page, Soper has starred in popular Kiwi television shows such as Shortland Street and Filthy Rich. She also had a role in the TV miniseries Anzac Girls and some other TV movies. But this was a big deal. According to the New Zealand Herald, Soper recently relocated to California to act in larger roles, so getting a Lifetime movie role as Princess Di was definitely part of her plan. She enjoyed it, too. She told Stuff.com that she had fun filming the movie in Vancouver and can't wait to see the final cut.
Editor's Note: The Instagram post has since been deleted.
Soper said of the movie, "It's just such as beautiful love story and I really enjoyed reading the script." The actress really went for the role, too. She added that she did as much research as possible on Diana and made sure she looked *just so* for the audition. "I turned up very much in character," she told Stuff.com. And everyone noticed, she added, including another actress waiting to audition for the same part:
She looked at me and was like, 'oh my God, you're just like her. I'm going to read that you were cast'. Then when I went into the room, they were like, 'wow, you're just like her'. Sure I was in character, but it was so nice to have that positive affirmation.
Basically, no one else ever had a chance for the role this time around. Soper tends to play strong female leads, much like Princess Diana. The character, Annabelle, that she portrayed on Shortland Street was very similar. "I love that Annabelle is a bit wild and kind of crazy. It's so freeing and challenges me as an actress not to play things too safe," Soper said in a January 2018 interview with Stuff before she left her native New Zealand. "I've never really had the chance to play such a glamorous, vivacious character before and I love it — particularly when I have my wardrobe fittings."
That was just before she left for California, which just goes to show you that things tend to work out when you fight for them. She said of her big move:
As much as I love New Zealand and the work it produces, I've always had a goal to get work over here in America too. That would be a huge achievement for me, coming all the way from a small farm in Makarewa. I moved to LA after winning the Green Card Lottery. When the day came, I left for America by myself, having never set foot anywhere further than Sydney.
Soper added:
As we were arriving I was so nervous and exhausted from all the delays, I got a bleeding nose and the crew recognized me from Filthy Rich, so they wanted to get their pictures taken with me. When I finally got off the plane there was a crowd of people waiting to find out who I was. I hid in the bathroom until they left rather than tell them I'm nobody they'd know!
That will definitely never happen again after Harry & Meghan: A Royal Romance hits the small screen. Soper will now forever be known as Princess Diana.