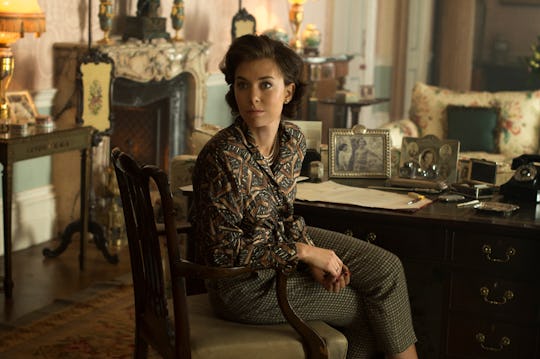 Alex Bailey/Netflix
Who Plays Princess Margaret On 'The Crown'? Vanessa Kirby Takes On The Royal Role
On Nov. 4, Netflix released their latest drama, The Crown, which shows the life of Queen Elizabeth II, beginning a little after the end of World War II. The drama will not only show the life of the queen, but also of her husband, the royal family, and England itself as it works to rebuild after the war. One character of great interest is Princess Margaret, the younger sister and only sibling of Queen Elizabeth II, and sometimes referred to as the black sheep of the royal family. Vanessa Kirby will play Princess Margaret on The Crown, and will allow fans to get a closer look at the earlier parts of the late princess' life.
After World War II, Princess Margaret famously fell in love with Group Captain Peter Townsend. And while Townsend divorced his first wife shortly after Elizabeth was crowned Queen in order to be with Margaret, the English government felt he would be an unsuitable match for the Queen's sister, so the Church of England refused to marry the two. Eventually, the plan for marriage was dropped and Margaret moved on to accept the marriage proposal of photographer Antony Armstrong-Jones, who the Queen made Earl of Snowdon. They remained married for 18 years and had two kids before getting a divorce.
Her divorce was viewed negatively as was the romantic ties she had (or rather, was rumored to have) with various men throughout the rest of her life. Princess Margaret's health began to fail in the last 20 years of life and after having a lung operation and three strokes, she passed away in February 2002.
According to IMDb, Kirby is only set to appear in one episode of the first season of The Crown. But don't let that fool you — you'll be seeing plenty of Queen Elizabeth's one and only sibling throughout a majority of the season. Different aspects of her life will be explored, as you'll come to see, including her scandalous relationship with Townsend as well as her complicated relationship with Elizabeth herself.
Kirby has numerous credits to her name, which range from films (Me Before You, Jupiter Ascending) to TV shows (The Frankenstein Chronicles). But her role as Princess Margaret will by far be one of her most prominent and praised parts to date.
You can see the actress in action, along with the rest of the amazing cast of The Crown on Netflix, starting Nov. 4.