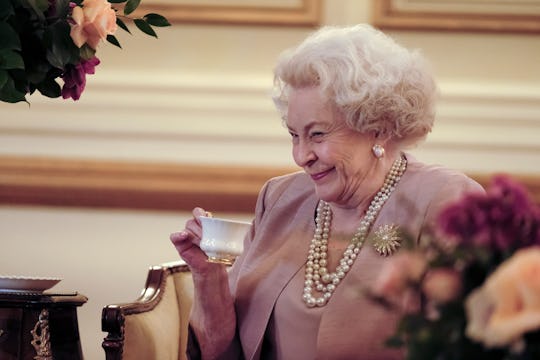 Michael Courtney/Lifetime
Queen Elizabeth Will Appear On Lifetime's 'Harry & Meghan: A Royal Romance' — Sort Of
Lifetime, ahead of the royal wedding this month, will debut a dramatized made-for-TV movie about the inner life of Prince Harry and Meghan Markle, chronicling their set-up through mutual friends, their public courtship amidst intense press scrutiny, and the challenges surrounding their engagement. So British Royal nerds eager to sink into the fairytale romance may be wondering: who plays Queen Elizabeth on Harry & Meghan: A Royal Romance? Maggie Sullivun may look familiar to Fargo fans.
She had a three-episode guest arc in the FX anthology's third and most recent season playing Momma, which has been her biggest role to date. Prior to her work on Fargo, Sullivun was mostly doing one-off roles on TV and in film, including an episode of Psych. From the looks of production stills from A Royal Romance, Sullivun appears poised to nail the Queen's demeanor.
She joins British actress Bonnie Soper, who will play Princess Diana in flashbacks, Murray Fraser, who plays Prince Harry, and Jamaican-born Jessica Jones/Luke Cage alum Parisa Fitz-Henley, who plays Markle. (In a refreshing twist, Fitz-Henley as the 36-year-old princess-to-be is a shockingly appropriate 41 years old.) The made-for-TV movie follows in the footsteps of Lifetime's 2011 royal fairytale jaunt William and Kate: The Movie.
Based on the trailer for A Royal Romance, it looks like a big focus of the story will be Harry's reluctance to get married. At 33 years old, he's something of a late bloomer to the traditional rituals of royal life, though he's also emblematic of millennial attitudes towards putting off or ditching marriage altogether. But, as the trailer dramatically teases, that all changed with Markle. We see their first meeting, over dinner, along with some truly spectacular "wowed" acting from Fraser.
Also — and I suspect this part is highly dramatized — we see Harry's newly-minted sister-in-law, the Duchess of Cambridge, Kate Middleton, as a huge influence in nudging him towards marriage. (Laura Mitchell's transformation into Middleton is truly uncanny.) "Peter Pan can't stay in Neverland forever," she sagely observes as Prince William perches uselessly on the couch. "But marriage isn't so bad."
There's also some fierce rebellion from Harry (a standard trope in basically anything depicting the royal family) and eventual triumph (a slightly less standard trope) as he proposes to a divorced American TV star, and the first black person to marry into the British monarchy in the modern era. Even though Lifetime movies are notoriously cheesy, I hate to admit that the trailer actually pulls at heartstrings pretty successfully.
Other challenges to their relationship explored in the film include the difficulties of international long-distance dating (relatable!) and how Markle gave up her acting career and lifestyle blog in one fell swoop to transition more effectively to palace life. Said Fitz-Henley of the real-life woman behind her role in an interview with Vanity Fair:
She's such a well-rounded human being. This is a woman who studied international relations right alongside theater; who very easily could have become a diplomat instead of an actor. The fact that she's being given a larger stage on which to share the stories of other people, convey people's experiences to a large audience...I don't feel like she has left anything as much as she has transitioned into this new phase.
At a press conference for the film, its director Menhaj Huda confessed that he'd heard some insider tea from the palace about its response to the movie. He said, according to The Sun, "What I've heard is that they're seriously worried about the sex scene." He apparently learned this information because his "wife's best friend has been dating the press secretary of the palace."
So while Lifetime movies typically fall under guilty pleasure fodder for most of us, it actually looks like this one might be an enjoyable watch. Harry & Meghan: A Royal Romance premieres on May 13.