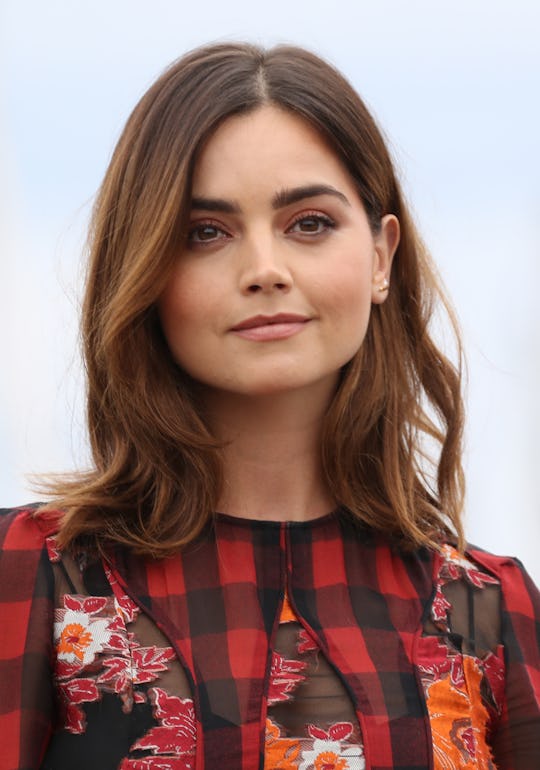 VALERY HACHE/AFP/Getty Images
This 'Victoria' Star Is From 'Doctor Who' Fame
When the new PBS series,Victoria, following the rise and reign of Queen Victoria of England, premieres on Jan. 15, the historically young queen will be portrayed by someone used to different time periods by now. And fast fans will no doubt be asking who plays Queen Victoria on Victoria. Jenna Coleman is most well-known for her role as Clara Oswald on Doctor Who, so right off the bat, the actress is well equipped to handle an important historical portrayal. And as someone whose main acting roster includes TV shows and miniseries, Coleman will likely find that slipping into the role of the 4'11" teenage queen comes naturally to her.
For the most part, her main roles have been with BBC or PBS and Victoria will be her first lead role in a TV series. Following on the heels of Netflix's The Crown and even the less historically accurate but just as fabulous Reign on The CW, Victoria tells the story of one of the more free-spirited England rulers. And while Coleman herself is a few inches taller than the famed queen (she's actually 5'2"), she definitely looks the part.
Coleman has been in a couple of different feature films, but most fans will undoubtedly recognize her as the latest Doctor Who time-traveling companion. Still, though, there's a lot more to the 30-year-old actress.
But if you're still trying to figure out where you know that face from, Coleman also had a small role in Captain America: The First Avenger as Connie, Bucky's girlfriend for like a hot minute before the focus turns to the Captain himself. So it was a small role, but being that Coleman has something of a memorable face, that might be where fans recognize her from.
She also played Emilia Clarke's sister in the tear-jerking, romantic comedy Me Before You. But when Coleman isn't traveling through time with the Doctor or donning a crown to rule a nation, she's hanging out with real-life royalty in the form of Prince Harry himself. In an interview with Good Morning Britain, the hosts slipped in a couple of cheeky questions, inquiring about the actress's relationship with the royal, given that there had been photos of the two of them at a charity event. Even though Coleman gave a demure, "He's a friend of mine," that's still pretty cool, especially since she's now playing her friend's great-great-great-great grandmother.
Coleman is now rumored to be dating her Victoria co-star Tom Hughes, who plays her eventual husband, Prince Albert, but she was previously in a four-year-long relationship with former Game of Thrones star Richard Madden (a.k.a. none other than Rob Stark). Basically, the world is hers for the taking right now and I can't wait to see her on-screen monarchy skills in action.