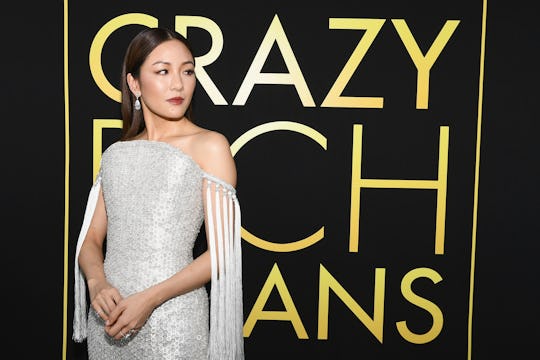 Emma McIntyre/Getty Images Entertainment/Getty Images
Who Plays Rachel In 'Crazy Rich Asians'? Constance Wu Brings The Film Together
It's been almost impossible to ignore the hype that Crazy Rich Asians has gotten. The film seems to be everywhere — from the cast gracing magazine covers, to the trailer airing on TV at every commercial break. But it's for a good reason — with an all asian cast, the film is bringing attention to people who deserve it. And seeing the film, people will definitely be wondering who plays Rachel in Crazy Rich Asians — because the main character brings the film together so seamlessly.
Crazy Rich Asians follows the story of one couple. The film follows Rachel Chu, an economics professor at New York University (who is played by actress, Constance Wu) and her boyfriend, Nick Young, a man hiding a big secret — his family is "crazy rich" as well as being "crazy" — so when the two make their way to Singapore for a friend's wedding, drama ensues.
Although this means that there is quite a bit of drama for Rachel, she puts up a fight, according to The Hollywood Reporter. And Wu does such a good job at conveying that, according to The Wrap — Wu "stands out" amongst the film's opulence.
It's awesome that the 36-year-old is finally getting the credit she deserves, according to Yahoo!. Although this might be the first time that people are seeing Wu on the big screen, Wu's role in Crazy Rich Asians is definitely not the first credit to her name.
Wu grew up in Richmond, Virginia, according to The Cut, where she gravitated towards acting. After studying acting in college, auditioning for roles, and waitressing to support her dreams, Wu got her big break when she auditioned for the lead role in ABC's Fresh Off The Boat, and got it, according to the Los Angeles Times. Wu explained this to the Los Angeles Times:
I booked a ticket one way to L.A., and then I continued to be a waitress. Then I auditioned for a show called Fresh Off The Boat and it was huge for so many people. It was the first network show in over 20 years to center in on an Asian American family's experience.
In Fresh Off The Boat, which debuted in 2015, Wu plays Jessica Huang, a smart, strong, business minded woman, who doesn't take any nonsense from anyone according to ABC. When Fresh Off The Boat returns for its fifth season on Friday, Oct. 8, people can tune in to see Wu on their TV screens week after week, which is an awesome thing — she represents a person who isn't always seen on TV.
Wu told the Los Angeles Times that she didn't seen herself reflected on TV growing up, which is why she is proud of her role on Fresh Off The Boat and in Crazy Rich Asians. "I never thought I would be considered for something like Crazy Rich Asians because I'd never seen any Asian American be a lead," Wu said.
Wu wasn't supposed to play Rachel in Crazy Rich Asians from the get-go, according to The Hollywood Reporter. After meeting with the film's director, John Chu, about the role, Wu declined because the film's shooting schedule interfered with her Fresh Off The Boat shooting schedule. But, after one very passionate email, Chu pushed the production to accommodate Wu's shooting schedule, according to The Hollywood Reporter. Yeah, she was that convincing — and it's awesome because she is even more convincing as Rachel, according to the film's reviews.
In an essay, published to her Twitter account, Wu talked about the significance of Crazy Rich Asians on both her career and her life. Wu wrote:
Before Crazy Rich Asians, I hadn't even done a tiny part in a studio film...I never dreamed I would get to star in one...because I had never seen that happen to someone who looked like me. Crazy Rich Asians is changing that, just like Fresh Off The Boat did.
You can sense that Wu is so grateful to be where she is today. It's people like her and her words that make characters like Rachel seem so relatable on the big screen.