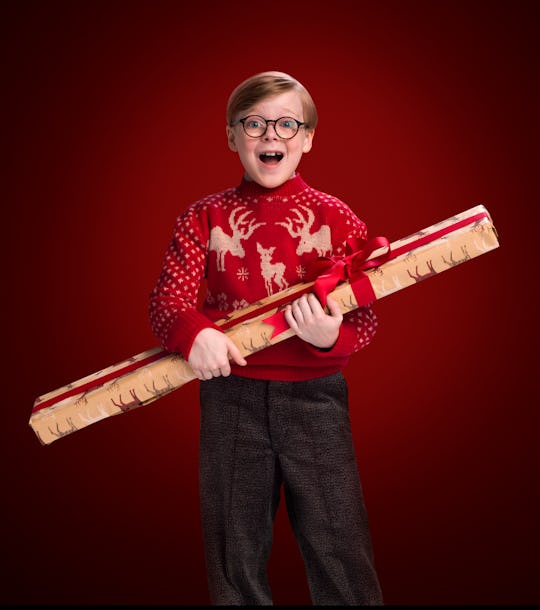 Tommy Garcia/FOX
Ralphie Is The Breakout Star In 'A Christmas Story Live!'
One of the most iconic Christmas films is A Christmas Story, and it's mainly because of the protagonist: Ralphie. This year, FOX is turning the story into a live musical airing Sunday night. But who plays Ralphie in A Christmas Story Live!? Andy Walken is an 11-year-old from Seattle who's getting his big break as the main character. The newcomer will be acting alongside both Maya Rudolph and Chris Diamantopoulos, who play his parents, as well as Jane Krakowski and Matthew Broderick. Many child actors start small and then move on to bigger roles, so did Walken take the same path?
A Christmas Story is based off a short story collection by Jean Shepherd by In God We Trust: All Others Pay Cash, And while there were other adaptations out there (including one where Matthew Broderick's father played Old Man Parker), by far the most famous is the 1983 film. Actor Peter Billingsley portrayed Ralphie in the movie; he landed the role at just 12 years old. Ralphie is famous for his baby face, blonde hair, and round glasses — oh, and his obsession with wanting a BB gun for Christmas. Ralphie is unofficially the "face" of A Christmas Story (besides the infamous leg lamp), so the producers of A Christmas Story Live! certainly had to get the casting right.
"Finding the perfect Ralphie is a crucial aspect of this telecast," said Ian Eisendrath, musical director of A Christmas Story Live!, in a behind-the-scenes video. "Ralphie is not only the leading character but the entire reason for the show and the heart of the piece." In the video viewers can see dozens of boys eyeing the part of Ralphie. Eisendrath continued, "It's truly exciting when that person comes in and you realize 'Oh my gosh, they tick all the boxes' and they're just uniquely special."
Andy Walken apparently ticked all the producers' boxes. The young actor originally hails from Seattle, but he and his family moved to Los Angeles in August. "I'm very excited about this," Waken said in an interview with Q13FOX. "It's so cool to work on this Warner Brothers set and work with all these actors." During the audition process, Walken said that he wanted the role because he felt a kinship with the character. "I can relate to Ralphie and the reason Ralphie would be awesome is because I love the movie so much," he continued. "If I got this role it would be the greatest, most awesome Christmas present I ever gotten in my life." Well, his wish came true (I would watch the end of the video, where Walken gets a maybe-staged call that he nabbed the part of Ralphie. Like I said, it may be faked, but it's very cute regardless!)
Not only did Walken win the part, but he got to meet the original Ralphie, Peter Billingsley. When talking to Entertainment Weekly, Matthew Broderick — who plays the older Ralphie, aka the narrator — said it was great to see the two interact. "There was something cool about seeing the two of them together." A Christmas Story Live! doesn't just require Walken to act: he needs to sing and dance, too. Thankfully, Walken was up to the challenge; he's already an athlete, so it wasn't too much of a stretch for him. "The hardest part about this would be the choreography but I'm a figure skater so it's a different type of choreography," he said. "But I got it pretty fast."
Seeing how cute Walken looks in the video and in interviews, I'm confident he'll be a worthy 2017 Ralphie to complement the 1983 version. I have a feeling this won't be the last viewers see Walken on their TV screens.
Check out Romper's new video series, Romper's Doula Diaries:
Watch full episodes of Romper's Doula Diaries on Facebook Watch.