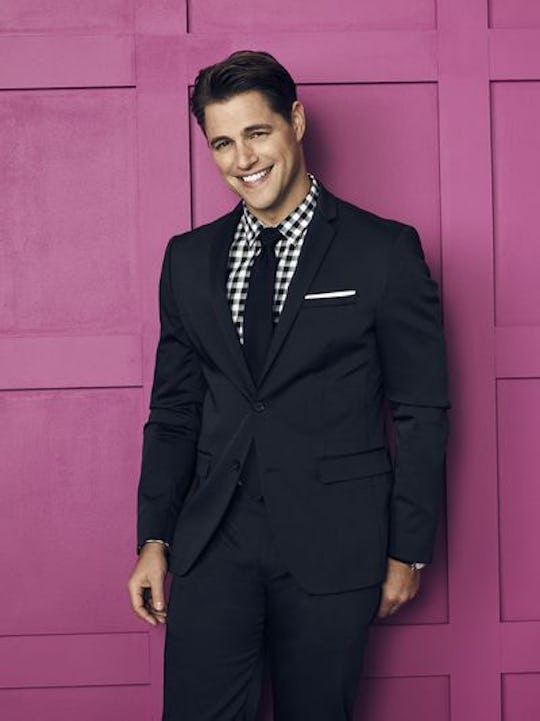 Justin Coit/ABC
Richard From 'The Bold Type' Is First & Foremost A Doting Dad
On a show full of empowered and powerful women (including Melora Hardin, a.k.a. Jan from The Office, which was some stellar casting), the men are going to stick out. Maybe for good reasons, possible for not so good ones, but who plays Richard on The Bold Type? Sam Page was already successful on Freeform — with his multi-season arc on Switched At Birth and even years before then as well. When the network was still ABC Family, he played Page on Greek. You might also recognize him as Joan's abusive husband on Mad Men.
But his career since then has proven that the 40-year-old actor and new dad can take on pretty much any kind of role and crush it. I mean, if he can go from one of the most hated men on Mad Men to Kimmy's potential love interest Army vet on Unbreakable Kimmy Schmidt and do it in a pretty great way, it's impressive. Besides being super recognizable for being easy on the eyes, Page seems to be all about his growing family.
In 2014, he married fiancée Cassidy Boesch and then, in 2016, the couple welcomed their first child, a baby boy they named Logan. And you'd better believe that Page's Instagram is like an overall dedication to being an adorable family man. Which you have to love, since the actor is now playing something totally different as Richard on The Bold Type.
You kind of have to love the fact that even though Page is a successful actor with plenty of credits under his belt, including the Emmy Award-winning House of Cards, he still seems to be totally grounded when the cameras aren't rolling, especially when it comes to his wife and son.
The Bold Type, inspired by the life of former Cosmopolitan editor Joanna Coles who serves as executive producer on the series, follows the careers of the women in print as they work on getting their voices heard and being taken seriously.
"We always joke that the tagline of the show should be 'Searching for the right shade of lip gloss to wear while smashing the patriarchy,'" The Bold Type showrunner Sarah Watson told The Hollywood Reporter. Sounds legit and it'll be interesting to see how Richard fits into it all.
The new Freeform series is premiering as a summer show, but that only means you'll have little excuse not to follow the young journalist BFFs as they work their way up at the fictional Scarlet magazine with Richard along for the ride.
The Bold Type premieres on Tuesday, July 11.