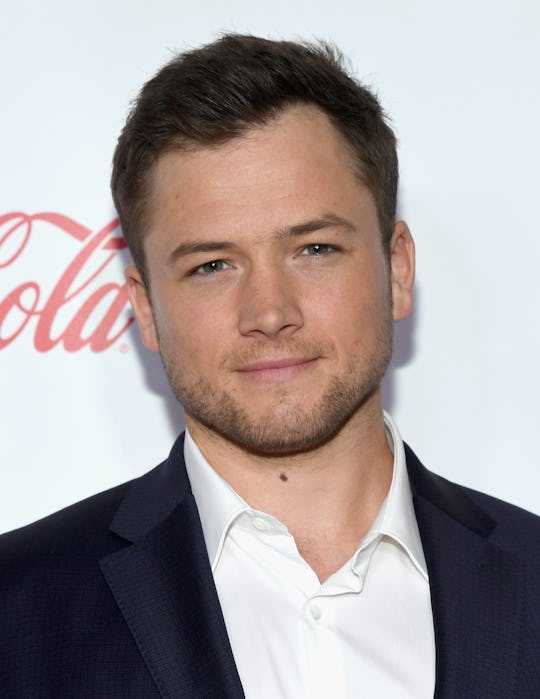 Ethan Miller/Getty Images Entertainment/Getty Images
Who Plays Robin Hood? Taron Egerton Might Be Hollywood's Newest "It" Actor
If the name Taron Egerton doesn't ring a bell, get ready to be initiated. The Welsh actor is set to portray Robin Hood like you've never seen him before in the newly-imagined tale of the legendary thief-turned-crusader who robs the rich and gives to the poor. The world so needs a Robin Hood right now. So, let's look a little deeper into the question, 'who plays Robin Hood?' Because Targon Egerton might be Hollywood's newest "it" actor. One thing's for sure, he's been stealing fans hearts with his good looks, charm, and acting chops for quite sometime.
Egerton is most well known for his role as Gary "Eggsy" Unwin in 2014's Kingsman: The Secret Service. He also reprized his role in the follow up, Kingsman: The Golden Circle, in 2017.
In between his Kingsman roles, he had time to fit in one more movie, Eddie the Eagle, where he portrayed a persistent British ski jumper competing in the 1988 Olympics, according to IMDb.
Fun fact — most people don't know that he was in the movie, Sing! No doubt, you've watched it on repeat if you have small children at home. He voices the tough guy-turned-crooner, Johnny the Gorilla. Yes, that beautiful voice belongs to Egerton.
And next year, he's completely shifting gears, starring as Elton John in the new biopic Rocketman, as The Guardian reported. Seriously, watch the preview and you might have trouble believing that's Egerton and not really Elton John himself.
Besides Egerton's acting and singing accomplishments, he's also seen his fair share of controversy.
A few months ago, he put himself right in the middle of the #MeToo controversy by saying he avoids being alone with women since the the movement gained momentum, according to The Independent. He told Radio Times:
Like a lot of people with a profile I was like, 'Holy sh*t, what have I done since I was 18?' I have just become single again and I'm not in a place where I'm thinking about dating, but when I am, it will probably affect my thinking a bit. There are certainly situations where I avoid being alone with certain people.
He also spoke out about his Billionaires Boys Club co-star Kevin Spacey, who was accused of alleged sexual harassment and misconduct of this peers.
"He was never inappropriate with me," Page Six reported Egerton told the Telegraph. "There's a fine line, though, isn't there, between someone being an audacious flirt and being predatory? I thought he was the former. But it's sad that his professional demise threw such a shadow over our film."
His first name, Taron, means "thunder" in Welsh — his grandmother was Welsh, according to IMDb. His parents are from Liverpool, England.
Fans have high hope for the latest remake of Robin Hood. Although its been done dozens of times before, this version looks gritty and totally awesome with lots of action and choreographed fight scenes. Egerton did a lot of his own stunts for the movie and admitted to Kelly Ripa and Ryan Seacrest he even got thrown from his horse a couple of time during filming, according to MSN.
In a world full of remakes, this one looks pretty darn good. And here's hoping that Egerton lives up to the hype. But one thing's for sure, he looks like he knows what he's doing while riding a horse, welding a bow and arrow, and fighting for justice.
Season 2 of Doula Diaries shares the stories of fearless doulas helping their clients take control of their births and make tough choices that feel right to them. Watch the first episode of the new season Monday, November 26th.