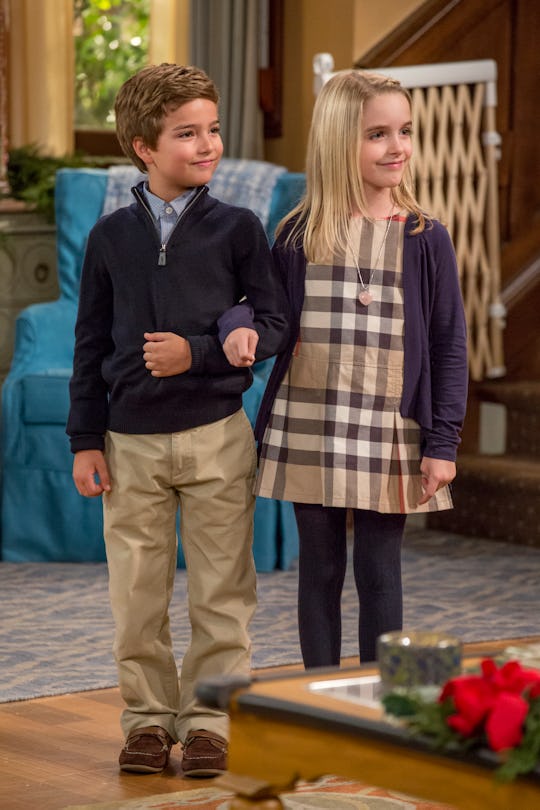 Michael Yarish/Netflix
Rose From 'Fuller House' Should Look Very Familiar
Fuller House is back for a third season and although the show's original iteration didn't focus a ton on romantic subplots, the reboot has gone so far as to give precocious eight-year-old Max Fuller, who inherited his grandfather's neat-freak neuroses, a girlfriend in Season 2. Her name is Rose and she's the daughter of Steve's fiancée C.J., who just so happens to be a carbon copy of D.J., which everyone just sort of seems to let slide? So who plays Rose on Fuller House? Mckenna Grace is actually a very familiar face.
She spent three years on soap opera The Young and the Restless, playing Faith Newman in 50 episodes. She also played Young Emma Swan in two seasons of Once Upon a Time. Grace is perhaps most recognizable right now as Penny Kirkman on ABC's Kiefer Sutherland-helmed primetime drama Designated Survivor, on which she plays the first daughter. But she has everything from Disney Channel credits, to a multi-episode arc on CSI: Cyber, to a starring film role alongside Chris Evans under her belt. Up next, she's set to appear in I, Tonya, the upcoming film about Tonya Harding and Nancy Kerrigan, in which Margot Robbie stars as the titular figure skater, Allison Janey plays her mom, and Grace plays Young Tonya. Needless to say, she looked utterly flawless at the Toronto International Film Festival debut of the film.
With 40 (40!) IMDB credits, Grace is seriously seasoned for an 11-year-old actress, but then again, the Full House franchise is no stranger to making stars out of talented kids. As Rose, Grace plays the perfect match for the prim and proper Max. She's pretty much the world's classiest eight-year-old, making her debut on the show in a sharp Burberry jumper. She initially comes over to the Fuller house with her mom C.J., because they know D.J. is a vet and Rose's pet rabbit Jack won't eat. She hopes D.J. can help. Along the way, she meets Max, who takes notice of the pair's names. Max's favorite movie is Titanic, which, of course, is also Rose's favorite movie and the source of her and her rabbit's namesakes. The two bond over their mutual love of the film and even reenact the King of the World scene in Max's bedroom. (I don't even understand how the studio audience kept it together when they were filming it.)
Their mutual crush is obviously playful, but they really solidify their "relationship" when Rose gifts Max a dinosaur for Christmas. They later spend New Year's Eve together (both adorably jammie-clad), but Max falls asleep and Rose has to wake him up so he doesn't miss the festivities. She gives him a "New Year's Kiss" on the cheek to much swooning from Max.
The pair are set up for even more adorable fun this season, as the first half focuses on preparations for C.J. and Steve's wedding, which is set to take place in — wait for it — Tokyo. (Can you say vintage '90s sit-com on-location montage?) Since D.J. is a bridesmaid, it seems safe to assume that Max and Rose will likely be accompanying one another down the aisle as important members of the wedding party. — and again, I'm not emotionally prepared for however cute they're going to look.
Knowing the show, I'd be willing to bet that Max and Rose also encounter some relationship conflict this season, which will give D.J., Kimmy, and Steph a chance to huddle up at the end of an episode to bestow some sage parental advice, à la the thrilling family sit-com conclusions of yore. The first nine episodes of Season 3 are currently available on Netflix, with the second nine episodes set to drop at a later date.
Watch Romper's new video series, Romper's Doula Diaries:
Check out the entire Romper's Doula Diaries series and other videos on Facebook and the Bustle app across Apple TV, Roku, and Amazon Fire TV.