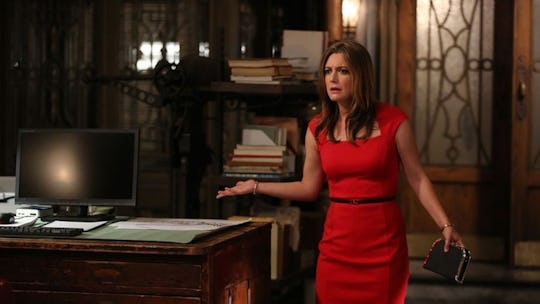 John Fleenor/ABC
Ruland Has Strong Ties To The 'Scandal' Cast Off-Screen
Season 6 of Scandal has introduced two new mysterious characters who are wreaking havoc in D.C. The first is the man named Peus, who seems to be running the mysterious organization that has even Rowan scared. Then there's his right hand woman goes by two names: Ms. Ruland and Samantha — the latter of which is a made-up name she's given her faux boyfriend David Rosen. So who plays Ruland on Scandal? Zoe Perry is the mystery woman.
Perry comes from a very talented family. Her father, Jeff Perry, probably looks familiar since he plays Cyrus on Scandal and her mother is none other than Emmy-winning actress Laurie Metcalf. Scandal fans will probably recognize Perry most from her work on other ABC shows, however. Prior to Scandal, she had small roles on Shonda Rhimes' other dramas Grey's Anatomy and Private Practice, and she also had a recurring role on the short-lived drama The Family.
Besides that, fans may recognize Perry from the various other shows she's appeared on, including Roseanne (where she played a younger version of her mother's character), Law & Order: Criminal Intent, Conviction, Cold Case, My Boys, Ave 43, and Liv and Maddie. After Scandal, Perry will star in The Big Bang Theory prequel spin-off, Young Sheldon. Perry will once again play the younger version of her mother's character on the show by playing Sheldon's mom, Mary Cooper.
For now though, Perry has been killing it as Ruland on Scandal. Though she's the villain, fans are loving how she handles her business and even if Peus is really the one in charge, it seems Ruland is running things as well. Plus, fans are absolutely loving her one-liners and are still talking about when she put Abby in her place.
"I'm a real b*tch, you just play one on TV," she told Abby before it was revealed that she's dating David.
It's clear Ruland, Peus, and the organization they both work for is one step ahead of everyone, but that's not going to stop Olivia from trying to take them down. Now that Fitz has taken Rowan into his custody, Olivia hopes to get her dad to work with her team to bring down the mystery group. However, based on the preview for the next episode, that'll be easer said than done.
Hopefully, Olivia will be able to fix this like she fixes everything else, but the odds are definitely not in her favor. Both Peus and Ruland have proven they're absolutely ruthless and will kill anyone that gets in their way (RIP Elizabeth North). Olivia will have to tread carefully, before she ends up next on their hit list.