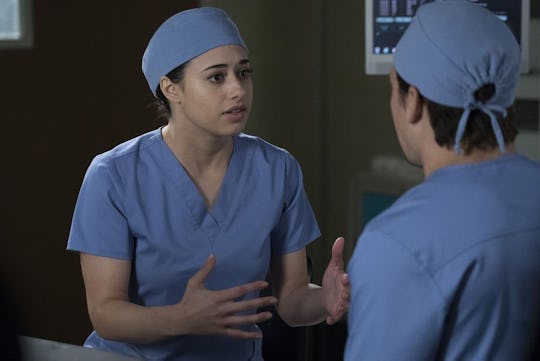 Richard Cartwright/ABC
There's A Reason You May Recognize Sam Bello On 'Grey's Anatomy'
In the latest episode of Grey's Anatomy, it was revealed that the intern Immigration and Customs Enforcement (ICE) was looking for was Sam Bello. Now that Sam's been brought further into the spotlight, you may be wondering who plays Sam Bello on Grey's Anatomy? Jeanine Mason is perfect for the role.
If you're a fan of reality TV competitions, you may recognize Mason from the fifth season of So You Think You Can Dance. Mason ended up winning the season and even won the title of "America's Favorite Dancer." Though she still has a love and appreciation for dance, Mason decided to get into acting following her win. After earning a number of small roles on TV series like Big Time Rush, The Fresh Beat Band, CSI: Crime Scene Investigation, and Hollywood Heights, Mason then scored her first major role on Bunheads as Cozette. The part gave Mason the opportunity to combine her passion for acting and dance. Unfortunately, the series was cancelled after it's first season.
Following Bunheads, Mason was cast in some smaller roles in TV shows and movies like The Secret Life of the American Teenager, Hot Mess, Major Crimes, Awkward., Delirium, and You're the Worst. She also appeared in the films Default and El Empantanado: The Muddy, before scoring another recurring role on Of Kings and Prophets. From there she went on to appear in Searchers, The Archer, Daytime Divas, Ride Overshare, Criminal Minds, before landing the character of Sam on Grey's Anatomy. However, it now seems that Mason is leaving Grey's.
After ICE arrived, Bailey and Meredith hid Sam so they could figure out how to help her. Sam revealed that she was a DREAMer — someone who came to this country as a child and was an undocumented immigrant — and that as far as she knew all her paperwork was up-to-date and she hadn't broken the law. Basically, there was no reason for ICE to come and deport her. Or at least, that's what she thought. Unfortunately, she was wrong.
It turned out Sam had run a red light after working a 36-hour shift. She hadn't even thought about it afterwards because she thought the light was still yellow at the time. But that's the privilege of being a citizen, most people don't have to think about that. Unfortunately, because Sam technically did break the law, it was enough for ICE to come and deport her. Thankfully, the doctors were able to come together and figure out a way to keep Sam from being sent back to El Salvador, a place she couldn't even remember since she left was she was a year old.
First, Meredith suggested Sam and DeLuca get married, but Sam shut that down because apparently a green card through marriage doesn't work for DREAMers. Then, Meredith called in Alex who called in Jo for ways to make Sam disappear. While Jo's methods were certainly interesting, Sam wasn't going to fake her own death just to stay stateside. DeLuca then suggested they drive to Canada and start over there, but Meredith said a solid no to that because if Sam broke the law she could never be a doctor again.
Finally, at the end of the episode Meredith came up with the perfect plan. Sam would voluntarily leave the country to work with Cristina in Zurich. (It helps knowing people in high places.)
Thus, Sam is now off to Zurich, which means the brief rekindling of her relationship with DeLuca has come to a very sad end. It's unclear if Sam will ever be back since that'll really depend on her immigration status, but for now it seems this is goodbye to Sam Bello. I'll miss her!
Check out Romper's new video series, Romper's Doula Diaries:
Watch full episodes of Romper's Doula Diaries on Facebook Watch.