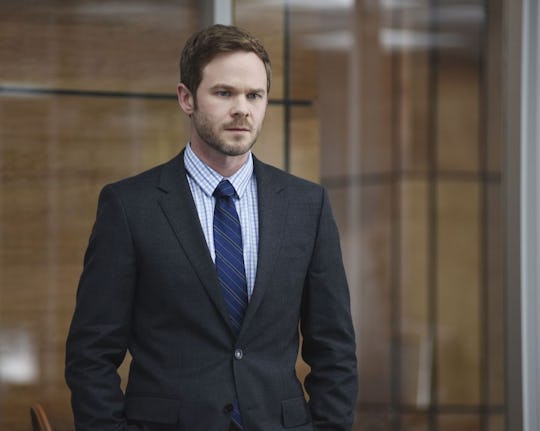 John Medland/ABC
Who Plays Sam Spencer On 'Conviction'? He Used To Be A Superhero
Fall is officially here, which means fall shows are also finally here. Of course our favorite shows are returning but there's also a lot of new shows being added to the fall line-up, including ABC's new show, Conviction. Haley Atwell stars as Hayes Morrison, a former first daughter who's blackmailed into heading a group that is tasked with investigating and possibly overturning wrongful convictions. One member of Hayes' team is Sam Spencer, an attorney who was supposed to lead the group, before Hayes was pushed into the job. So who plays Sam Spencer on Conviction? Well if you're an X-Men fan you'll probably recognize him.
Shawn Ashmore is kind of a hero as Sam Spencer on Conviction but he's actually a superhero in the X-Men films. He played Bobby Drake, also known as Iceman, in four X-Men films, including X-Men, X-Men 2, X-Men: The Last Stand, and X-Men: Days of Future Past. However, the X-Men franchise is definitely not the only films you'd recognize Ashmore from. If you were a Disney Channel back in what some refer to as "the golden era," you may recognize Ashmore as Brad from Cadet Kelly, which starred Hilary Duff. Ashmore also appeared in the films Underclassman, The Quiet, Mother's Day, Frozen (not the Disney film), and Breaking the Girls, amongst many others.
Conviction also won't be the first TV show Ashmore stars in. Back in the '90s Ashmore starred in Animorphs and then he starred in the Disney Channel series, In a Heartbeat. Ashmore also appeared in a few episodes of Smallville and starred in the medical mini-series, Bloodletting & Miraculous Cures. More recently Ashmore starred in the FOX crime drama, The Following. Now, in addition to starring in Conviction, Ashmore is also starring in two other new shows, Quantum Break and Relationship Status. Ashmore's also working on two new films, Hollow in the Land and Devil's Gate. It's clear Ashmore is keeping busy these days and it's great to see him doing so well, even if he will always be Bobby Drake in my heart.
You can watch Ashmore as Sam Spencer on Conviction beginning on Oct. 3 at 10 p.m. EST on ABC.