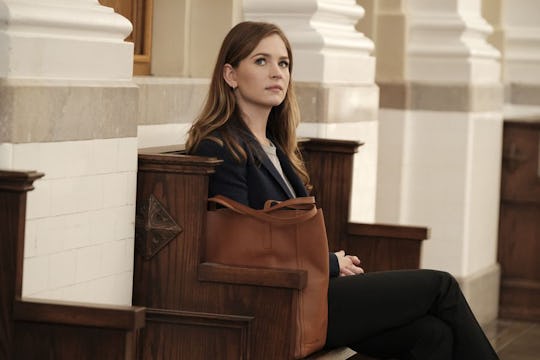 Nicole Wilder/ABC
The Actor Playing Sandra On 'For The People' Is No Stranger To The Small Screen
An all-new Shonda Rhimes show is coming to ABC. The new series, For the People, is a courtroom drama centered around those fighting for justice, but in different ways. On one side there's the district attorneys and on the other are the public defenders. One of those public defenders is Sandra Bell, but who plays Sandra on For the People? Britt Robertson should look very familiar to some.
This certainly isn't Robertson's first rodeo when it comes to starring in a TV series. After appearing on various popular TV shows like CSI: Crime Scene Investigation and Law & Order: Special Victims Unit, and snagging a role in the TV movie adaptation of Jodi Picolut's bestselling novel, The Tenth Circle, Robertson got her first starring part on The CW series Life Unexpected. Unfortunately, the series only lasted two seasons and Robertson's next series, The Secret Circle, didn't make it beyond the first season. Following those projects, Robertson had a recurring part on the sci-fi series, Under the Dome, before she landed another starring role on the Netflix drama, Girlboss. Sadly, Girlboss was cancelled after its first season as well.
Although Robertson hasn't had the best track record with TV shows, she's done pretty well on the big screen. She appeared in Scream 4, Video Girl, and The Family Tree, before she found major success in the indie film, The First Time, which she starred in alongside her now boyfriend, Dylan O'Brien. She then went on to do a number of other films, including The Longest Ride, which was based on the Nicholas Sparks novel of the same name, and the Disney film Tomorrowland, which she starred in alongside George Clooney.
Robertson has also appeared in the films Mother's Day and A Dog's Purpose, and recently starred in the sci-fi, romance film, The Space Between Us. She'll also be a lead in The Postcard Killings, working alongside Patrick Dempsey, which is due out later this year.
Although Robertson seems to be the perfect fit for the role of Sandra on For the People, she wasn't originally cast on the show. When the pilot was first shot, Britne Oldford played Sandra, however the role, as well as another, were both recast after the project was picked up to series. Some people felt the change was because Robertson was more well known, but showrunner Paul William Davies, told TVLine that wasn't the case.
"It wasn't like we moved from Britne to Britt; there was a protracted period of looking at other actresses," he said. "We did an exhaustive search, and [Britt] is who we ended up with." And when it comes to how the change will impact the role, Davies said that it was more about "redefining" the character. He added, "There is a core of her that existed all along [but] she plays a little bit differently than she did in the original inception."
The "new" Sandra will also be more impulsive than the original character, and she'll be finding herself getting into some trouble over the course of the season. No matter what the reason for the change, it'll be great to see Robertson back on our TV screens.
Outside of her acting, Robertson keeps her personal life pretty private. She hasn't posted on her Instagram since September and hasn't tweeted since May of last year. She, and her boyfriend are so private, in fact, that many fans believed they broke up. Thankfully, back in January, O'Brien confirmed the pair were still together, simply by stating that he still had a girlfriend despite rocking a beard for months for his role in the film American Assassin.
You can see Robertson in her new series, For the People, when it premieres on Tuesday, March 13 at 10 p.m. EST on ABC.
Check out Romper's new video series, Romper's Doula Diaries:
Watch full episodes of Romper's Doula Diaries on Facebook Watch.