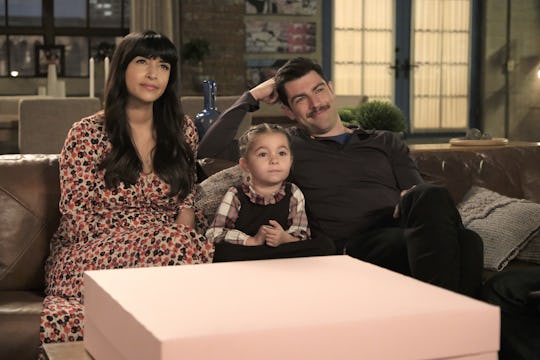 Ray Mickshaw/FOX
Schmidt & Cece's Daughter On 'New Girl' Is Almost Too Adorable For Words
When New Girl returns for its final season, the series will have jumped three years into the future, which means there's been a number of changes to the group. One of those major changes is there's now a kid on the show. At the end of Season 6 it was revealed that Cece was pregnant (she was the last to know), and it turns out she and Schmidt had a daughter. So who plays Schmidt and Cece's daughter Ruth on New Girl?
Twins Danielle and Rhiannon Rockoff will trade back and forth in playing the newest character to the series. Because they're so young, it's not surprising that their acting credits aren't that long. Prior to New Girl, they both played Samantha on Tru TV's comedy series Adam Ruins Everything. The pair also played a little girl in a Tide commercial a few years ago. So the twins are probably now used to playing the same character as each other. It's basically what's they've been doing for their whole career thus far.
Besides their acting credits, there's not much known about these two youngsters, though surely once the new season of New Girl begins, they'll be thrown more into the spotlight. For now though, it doesn't look like they have much of a social media presence, which makes sense due to their young age.
As for the character they're playing — Ruth — there's not too much known about her just yet either, and it'll be fun to see how she takes after each of her parents and how Cece and Schmidt handle raising a little girl. What is known so far is that Cece will be the breadwinner for the family. During the previous season, fans saw Cece start up her own modeling agency and after the time jump it appears to be going quite well. Max Greenfield, who plays Schmidt, revealed to TVLine that Schmidt is now a "stay-at-home-dad," which he absolutely loves doing.
"He really enjoys being a dad," Greenfield shared with the outlet. "He's also a control freak and he wants to control the environment — because the environment's gotta be right. He's sort of like, 'I think it'd just be better if I was here." However, just because Schmidt's a dad now doesn't mean he's completely lost his douche jar ways. Greenfield also added, "The writers have done a really good job of keeping enough of Schmidt while letting you see that [Ruth] is his entire world."
That sounds absolutely amazing and there's no doubt that both he and Cece will be great parents, especially with the help of the rest of the loft gang. Now with a new girl as part of the cast, it'll be fun to see how Ruth interacts with everyone. Jess, who's loved working with kids since day one, will probably have the most fun with Ruth, and if I had to guess, Jess is probably Ruth's godmother, though that hasn't been confirmed yet.
Nick will be an interesting case, especially because he never really had a regular kid experience. As he once mentioned on the show, he has always been an old soul who's "aged into his personality." So will Nick be able to get to Ruth's level or will he be his regular, sometimes totally awkward, self? Either way it'll be fun to see. As for Winston, he'll probably also have a fun time with Ruth and based on some of the previews for the final season, it looks like he and Ally may be preparing for their own kid soon, so hanging with Ruth will be good practice.
You can meet Ruth and catch up with the rest of the loft gang when New Girl's final season premieres on Tuesday, April 10 at 9:30 p.m. EST on FOX.
Check out Romper's new video series, Romper's Doula Diaries:
Watch full episodes of Romper's Doula Diaries on Facebook Watch.